Macron government survives no-confidence votes over use of '49.3' to pass pension reforms
Comments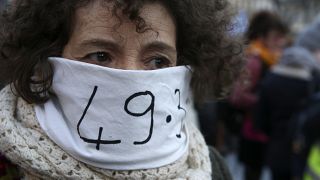 President Emmanuel Macron's government has survived two no-confidence motions tabled in the Assemblee Nationale over his party's decision to force controversial pensions reform through the parliament without a vote.
Prime Minister Edouard Philippe said the government would use a tool of the French constitution — Article 49, line 3, widely known as "the 49.3" — to pass the hotly-contested measures after only 13 days of debates.
The 49.3 allows bills to bypass a parliamentary vote, infuriating both opposition lawmakers and trade unions who have been protesting against the plans since December 5.
Macron's party, La Republique en Marche (LREM), has a comfortable parliamentary majority and would have easily won a vote, but LREM officials argued that debates would have taken up months of parliamentary time.
'Unprecedented fiasco'
Motions of no confidence were filed by both sides of the political spectrum: one by the three left-wing parties (the Socialists, the France Insoumise and the Communists) and the other by the right-wing Republicains party.
The Republicains motion received 148 votes and the left-wing group's motion got 91 votes, far from the necessary majority of 289 votes to topple the government. (Only votes for the motion are counted.)
LREM party has a parliamentary majority of 344 out of France's 577 MPs, ensuring a comfortable margin in almost any vote.
But even among the majority, this reform does not convince everyone: two LREM MPs, Hubert Julien-Laferrière (Rhône) et Delphine Bagarry (Alpes-de-Haute-Provence) announced they were leaving the party after the use of the 49.3 was announced last weekend.
Following the defeat of both motions, the Republicains' parliamentary chief Damien Abad described the government's reform as a "unprecedented fiasco" in which the French will "greatly lose out".
Fresh protests on March 31
The left-wing Insoumis voted for the right-wing motion "to say no to the government", Insoumis MP Francois Ruffin explained, despite "complete disagreements" on the content of the motion, especially on the retirement age.
Far-right leader Marine Le Pen's party supported the left-wing motion but not the right-wing one, citing as a reason the retirement age, which the right-wing motion set at 65.
The reform has therefore passed the Assemblee in its first reading and will be examined by the French Senate in April.
The government hopes the law will be adopted by summer.
The unions called for renewed protests across France, with 20,000 protesters marching in Paris against the reform on Tuesday according to unions.
Thousands also demonstrated on Monday against the use of the 49.3 in Paris, Marseille and Montpellier.
A new day of protests is planned for March 31.