Israel election: Exit polls give Netanyahu narrow lead
Comments
By Euronews with AP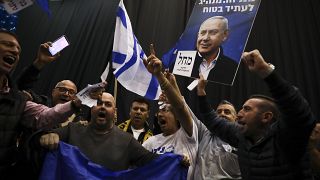 -
Copyright

AP Photo/Oded Balilty
Prime Minister Benjamin Netanyahu's Likud Party emerged as the largest party in the country's third election in under a year, exit polls indicated. Nevertheless, neither Netanyahu nor his main rival Benny Gantz are expected to gain a majority in the Knesset.
Israel's main TV channels projected Netanyahu's Likud Party and its religious and nationalist allies would capture 59 seats, leaving it two seats short of the majority needed to claim victory.
His opponents were projected to get a majority of 61 seats. But with his main challenger, the centrist Blue and White party, trailing Likud by several seats and the rest of the opposition fragmented, polls were pointing to a continued paralysis of Israel's political system.
If final results do give Netanyahu a parliamentary majority, it would pave the way for a new term and give him a boost as he prepares to go on trial for corruption charges.
Voting ended at 21:00 CET. Yet, official results will come later due to new procedures implemented in this election. On top of that Israel will still have to count ballots of voters under quarantine for COVID-19.
Netanyahu claims victory
Addressing a raucous crowd of thousands of ecstatic supporters at 2:30 a.m., Netanyahu claimed a "giant victory."
"This is a victory against all the odds because we stood against powerful forces," he said. "They already eulogized us. Our opponents said the Netanyahu era is over."
Not too long after the first polls came out, Netanyahu tweeted: "A huge victory for Israel."
He vowed to immediately begin work to form a new coalition and press forward with a hardline agenda that includes annexing large parts of the West Bank — a step that would destroy any remaining hopes of establishing a Palestinian state.
Addressing a crowd of enthusiastic supporters early Tuesday, Gantz did not concede defeat.
"This wasn't the outcome that perhaps we would have wanted," he said. Nonetheless, he said the party would not compromise its principles and would wait for final results.
If the final results hold up, the easiest way out of the impasse would be a unity government between Likud and Blue and White, which together command a solid parliamentary majority. Gantz, however, has ruled out a partnership as long as Netanyahu remains in charge. Netanyahu insists on remaining prime minister in any unity deal.
Netanyahu trial to start March 17
If official results match the exit polls, Netanyahu could go on trial March 17 weakened and stuck in political gridlock.
Netanyahu was indicted in November on charges of fraud, breach of trust and accepting bribes, making him the first sitting prime minister to be charged with a crime. He denies any wrongdoing and says he is the victim of a witch hunt by police, prosecutors and a hostile media.
During the campaign, Netanyahu failed in a bid to secure immunity from prosecution. As prime minister, he could still rally public opposition against prosecutors and judges in the case. He also could seek other avenues to delay or derail the proceedings against him.
Aviad Glickman, the legal affairs correspondent for Channel 13 TV, said that if Likud emerges victorious, Netanyahu's lawyers will likely seek to delay the trial. He also said there are serious concerns in the legal system that if Netanyahu secures another term, he will try to fire his attorney general, who filed the indictment against him, and push for legislation that would allow parliament to strike down Supreme Court rulings it opposes.
Voter fatigue factors in these elections
There was little fanfare in the days leading up to the vote, with a noticeable absence of campaign posters on the streets and public rallies that typically characterize the run-up to Israeli elections. With voter fatigue clearly a factor, turnout could prove to be decisive. Election day is a national holiday in Israel and the country usually boasts one of the highest voter turnouts among Western democracies. But the three-repeat vote and fears of the new coronavirus, which has so far have been kept largely in check, look to hinder turnout.
Israel set up some 15 stations to allow voting by hundreds of Israelis who have been ordered to remain in home-quarantine after possible exposure to the virus.
Netanyahu has tried to portray himself as a statesman who is uniquely qualified to lead the country through challenging times. Gantz has tried to paint Netanyahu as divisive and scandal-plagued, offering himself as a calming influence and an honest alternative.
In a campaign marked by ugly smears, Netanyahu's surrogates spread unfounded allegations that Gantz is corrupt, unstable and susceptible to blackmail by Iran.
But the candidates seemed to agree on one thing: The country cannot hold another election.
Another round of elections if coalition attempts fail
A Likud victory could also force the court to rule on Netanyahu's future. An advocacy group, seeking to oust Netanyahu, earlier this year asked the court to rule whether an indicted parliament member can be designated prime minister and asked to form a new government.
The Supreme Court in January declined to rule on the request, saying it was premature. But the issue could come up again if President Reuven Rivlin formally taps Netanyahu to form a new government.
Rivlin is supposed to select the leader who he believes has the best chance of putting together a stable coalition. The honour usually goes to the head of the largest party, but not necessarily. Just as important is the number of lawmakers outside his own party who recommend him to the president.
Rivlin's selection will then have up to six weeks to form a coalition. If he fails, another candidate then has 28 days to form an alternative coalition. If that effort fails, new elections would be forced. It's a procedural process that remained hypothetical for Israel's first 70 years of existence until it played out after the last election in September. Should results match current opinion polls, and all the major player stick to the campaign promises, it may well repeat itself.
Third time is a charm
The March 2 vote is Israel's third parliamentary election in under a year, an unprecedented situation for the 71-year-old country. The third election was called after neither Prime Minister Benjamin Netanyahu nor his main rival, former army chief Benny Gantz, succeeded in forming a governing coalition following the Sept. 17 election. The Knesset voted to dissolve itself and send the country to yet another election. Similar deadlock followed elections last April.