Erdogan announces Syria summit with Putin, Merkel, Macron on 5 March
Comments
By Euronews with AFP, AP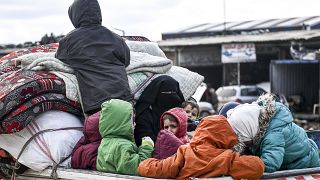 -
Turkish President Recep Tayyip Erdogan has announced he would hold a summit with his Russian, French and German counterparts on 5 March to discuss the situation in Idlib province, the last rebel stronghold in northwestern Syria.
"We are going to meet on 5 March," Erdogan said in a televised speech after a phone call on Friday with Russian President Vladimir Putin, French President Emmanuel Macron and German Chancellor Angela Merkel.
The Turkish President did not specify where the summit will be held.
The proposal of a four-way summit
Macron called for a summit on Syria with Germany, Russia and Turkey to take place "as soon as possible" in order to avoid a humanitarian disaster in the country's northwest.
"We must have a meeting as soon as possible with Germany, Russia and Turkey in the so-called Istanbul format", Macron said after an EU summit in Brussels.
The French leader's comments come as the UN warned on Friday that fighting in Idlib, the last rebel stronghold in the war-torn country, could "end in a bloodbath."
"Russian-backed Syrian forces continue to advance in the Idlib region of north-western Syria, despite calls to halt this offensive," Macron told reporters.
"It risks causing a humanitarian disaster, an escalation of the conflict and a migration crisis," he said.
Turkey announced on Thursday that two of its soldiers were killed in northwestern Syria by an airstrike attributed to the Syrian regime.
"We have been very clear with President Erdogan and President Putin about their responsibilities," Macron added.
Macron and Merkel first discussed the possibility of holding a four-way summit during a phone call with Erdogan and Putin on Thursday.
'Deteriorating humanitarian situation'
''The unfolding crisis in northwest Syria and the terrible human toll on civilians'' is now advancing into areas with the highest concentrations of people ''and threatening to strangle humanitarian lifelines,'' UN Secretary-General Antonio Guterres said on Friday.
The UN chief said 2.8 million people in northwest Syria require humanitarian assistance.
This includes nearly 900,000 people --the vast majority women and children -- who fled the latest Syrian offensive.
For almost a year, Guterres said, Syrian ground offensives supported by Russian airstrikes have targeted what was supposed to be a de-escalation zone in Idlib, and this month Turkish and Syrian forces have clashed repeatedly.
''All of this means that in addition to a dramatic and deteriorating humanitarian situation, we face the risk of an ever-more serious confrontation with increasingly unpredictable consequences,'' the secretary-general warned.