Nevada Democratic presidential debate: Everything you need to know
Comments
By Dareh Gregorian with NBC News Politics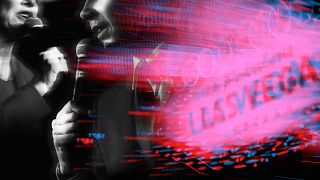 -
Copyright

Chelsea Stahl NBC News
Theninth Democratic presidential debate is set for Wednesday, and will feature a new billionaire on the stage.
While Mike Bloomberg qualified to make the debate stage for the first time, the other billionaire in the race who's been a frequent presence at the Democratic debates, Tom Steyer, did not.
The debate is the last before the Feb. 22 Nevada caucuses.
Here's what you need to know:
When and where is the debate?
The two-hour debate, which is being hosted by NBC News, MSNBC, Noticias Telemundo and The Nevada Independent, is being held at the Paris Theater in Las Vegas. It's scheduled to start at 9 p.m. ET.
The event has five moderators — "NBC Nightly News" and "Dateline NBC" anchor Lester Holt, "Meet the Press" moderator and NBC News political director Chuck Todd, NBC News Chief White House Correspondent and host of "MSNBC Live" Hallie Jackson, Noticias Telemundo senior correspondent Vanessa Hauc and Jon Ralston of The Nevada Independent.
Candidates will have one minute and 15 seconds for answers and 45 seconds for follow-ups at the moderators' discretion.
Who made the stage?
A total of six candidates qualified for the debate — former Vice President Joe Biden, former New York City Mayor Mike Bloomberg, former South Bend, Indiana, Mayor Pete Buttigieg, Minnesota Sen. Amy Klobuchar, Vermont Sen. Bernie Sanders and Massachusetts Sen. Elizabeth Warren.
There were two routes to qualification — hit 10 percent in four different national polls or 12 percent in two Nevada and/or South Carolina polls, or win a pledged national convention delegate in Iowa or New Hampshire.
Biden, Sanders and Warren hit both benchmarks. Bloomberg qualified due to polling, and Buttigieg and Klobuchar got in with delegates. Steyer, who made the stage at the previous five debates, fell short on both avenues.
Where to watch the debate?
The debate will air live on NBC News and MSNBC, and stream live on NBC News NOW on OTT devices, NBCNews.com, MSNBC.com, the NBC News mobile app, NBC News' and MSNBC's Facebook pages and online at The Nevada Independent. It will also air live in Spanish on Universoas well as the Noticias Telemundo mobile app and website and Noticias Telemundo's Facebook page.
NBCNews.com will also live blog the debate, including fact checks and analysis.
When is the next round?
There are three more Democratic debates, including one this month, ahead of the South Carolina primary on Feb. 29. That debate is being held onFeb. 25 in Charleston, S.C. and is co-hosted by CBS News and the Congressional Black Caucus Institute.
The final two debates are in March and April.