Pelosi announces vote to limit Trump's war powers on Iran
Comments
By Leigh Ann Caldwell and Matt Korade with NBC News Politics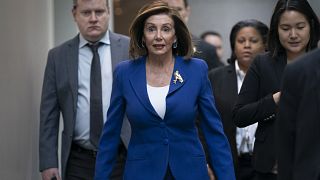 Copyright

J. Scott Applewhite

-
WASHINGTON — House Speaker Nancy Pelosi, D-Calif., announced Wednesday that the House will vote Thursday on a war powers resolution to limit the Trump administration's military actions against Iran.
The announcement comes less than a day after Iran fired more than a dozen ballistic missiles at two Iraqi air bases housing U.S. forces in response to the U.S. airstrike that killed top Iranian commander Qassem Soleimani last week. Iran's retaliation had created some uncertainty earlier Wednesday among House Democrats about the path forward on the resolution.
"Last week, the Trump administration conducted a provocative and disproportionate military airstrike targeting high-level Iranian military officials," Pelosi said in a statement Wednesday on the pending vote on the war powers resolution. "The administration took this action without consulting Congress. This action endangered our servicemembers, diplomats and others by risking a serious escalation of tensions with Iran. Since then, the president has made clear that he does not have a coherent strategy to keep the American people safe, achieve deescalation with Iran and ensure stability in the region."
President Donald Trump vowed in an address to the nation Wednesday morning to keep up the pressure on Iran with "punishing" new sanctions on top of the heavy economic restraints already in place, but he didn't suggest any additional military action in response to the overnight missile attack on U.S. targets in Iraq.
"Iran appears to be standing down, which is a good thing for all parties concerned and a very good thing for the world," Trump said. "No American or Iraqi lives were lost because of the precautions taken, the dispersal of forces and an early warning system that worked very well."
In her statement, Pelosi said members of Congress "have serious, urgent concerns about the administration's decision to engage in hostilities against Iran and about its lack of strategy moving forward. Our concerns were not addressed by the president's insufficient War Powers Act notification and by the administration's briefing today."
Pelosi said in her announcement that the resolution will be marked up by the House Rules Committee Wednesday night and go to the full House floor for a vote Thursday.
Iran's retaliatory missile attack thrust the path forward on the war powers resolution into "uncertainty," Foreign Affairs Committee Chairman Eliot Engel, D-N.Y., said earlier Tuesday, with some Democratic members raising concerns about restricting the president right after the United States was attacked.
"I'm not prepared to endorse a particular resolution right now," Rep. Tom Malinowski, a moderate freshman from New Jersey, said. "A number of us have been talking about the best way to frame this. It has to take into account what happened last night; it has to take into account where we are right now."
House Democrats held a closed-door meeting Wednesday morning on the hostilities with Iran but did not reach an agreement on what a resolution to reassert congressional authority over U.S. military action would look like.
"We won't move forward until we have the robust support of every corner the caucus," Rep. Hakeem Jeffries, D-N.Y., said. "We want to act in a responsible fashion on behalf of the safety and security of the American people, that is what this is all about."
In his remarks at the White House Wednesday, Trump continued to make his case against Iran and defended his killing of Soleimani, calling the Iranian general the "world's top terrorist." He warned that the U.S. was developing "many hypersonic missiles" to counter Iran should it seek to obtain a nuclear weapon and continue its state-sponsored terrorism.
"The civilized world must send a clear and unified message to the Iranian regime: Your campaign of terror, murder, mayhem will not be tolerated any longer," Trump said. "It will not be allowed to go forward."