Democratic debate gets green light after labor dispute settled
Comments
By Jane C. Timm with NBC News Politics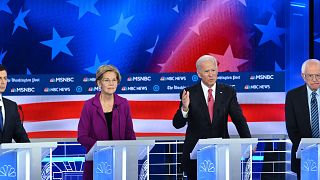 Copyright

Saul Loeb AFP - Getty Images file

-
The food workers whose union negotiations threatened to shut down Thursday's Democratic debate have struck a tentative deal for a new three-year contract, the union announced on Tuesday.
All seven of the Democratic candidates who qualified to participate in in the debate at Loyola Marymount University in Los Angeles said they would not cross a picket line in order to take part.
The move — a nod to Democrats interest in boosting organized labor and courting their votes — put the PBS News Hour/Politico debate in question and trained a spotlight on the dispute between the union, Unite Here Local 11, and Sodexo, the food service contractor who employs them. The union represents 150 cooks, dishwashers, cashiers and servers to prepare and serve meals at the university.
The tentative three-year deal includes a 25 percent increase in compensation, a 50 percent drop in health care costs, and increases to workers' job security, the union said in a statement.
The Democratic National Committee and its chairman Tom Perez, a former Labor Secretary in the Obama administration, helped "bring the situation to a positive resolution," the union said.
"As Democrats, we know the fight for fair wages is about more than just dollars; it's about dignity," Perez said "It's not about sound bites; it's about real solutions. That's what we were able to achieve today — a real solution for hardworking Americans."
Perez pressed stakeholders to negotiate over the last few days and helped facilitate meetings on Sunday and Monday.
"I am thrilled that we were able to reach an agreement, and that the candidate debate can continue as scheduled," Angela Fisher, prep cook at Loyola Marymount, said in a statement. "I want to thank the Democratic candidates who stood with us and the Democratic party that helped us win."