EU member states agree on climate neutrality by 2050 without Poland
Comments
By Euronews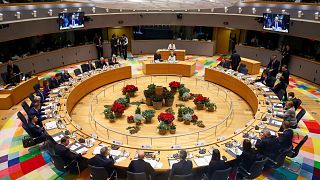 -
Copyright

Julien Warnand/Pool via REUTERS
European leaders reached an agreement on climate change in the first summit for the new leaders of European institutions, but one member state stood apart.
"We want Europe as the first climate-neutral continent," announced Council President Charles Michel who specified that one member state was exempt. But one member state, Poland, "cannot commit to implement this objective" which the Council will discuss again in June 2020, Michel said.
"Some Member States have indicated that they use nuclear energy as part of their national energy mix," the summit conclusions add.
Czech Prime Minister Andrej Babiš declared at the start of the summit that he would not agree to the EU's target to become climate neutral by 2050 if the deal did not include nuclear energy.
"Nuclear energy is clean energy", Babiš said. "I don't know why people have a problem with this."
Leaders focussed on two major issues at the summit, the bloc's budget and climate change. The Council will continue talks on Friday as well.
British Prime Minister Boris Johnson did not attend the summit as the UK voted on Thursday in a general election.
Upon arrival, French president Emmanuel Macron praised the "extremely ambitious agenda" of the new European Commission and Council and said that EU leaders would on Thursday "advance altogether on a very important topic, that of our climate ambition."
One of the priorities of this Summit, Macron said, is "carbon neutrality by 2050": "We will do everything we can to convince all our partners that this transition is essential. This will be at the heart of our talks this afternoon."
On the budget, Macron said that it would fund "policies for the future of Europe: climate, but also digital, AI, defence, migration". "There will be disagreements, we won't reach an agreement today, but we will set a method and an agenda", the French president said.
David Sassoli, the president of the European Parliament, urged the European Council to "assume its own responsibilities without delay and to set as of today the same goal of climate neutrality, to be achieved by 2050."
"We know only too well that climate change will bring profound changes in our societies and economies", Sassoli said in a statement.
"This is why the measures we take must support competitiveness and be accompanied by far-reaching social and inclusion measures, in order to guarantee a just transition, which fosters job creation and reflects the need for a high level of welfare protection." He added: "No one must be left behind. Efforts made by those who depend predominantly on carbon-based industries must be recognised and supported."
Ahead of the summit's opening on Thursday morning, EU Council president Charles Michel said that climate and the European Union's budget were priority topics.
"Climate change is the number one priority for this afternoon's meeting", Michel said. Climate neutrality is a very important goal, it is also a strong signal for the future of Europe. It means we have to invest massively in research, in innovation, in new, strong projects for the future."
"I hope it will be possible to reach an agreement during this summit", Michel added.
The Council, he said, should find "the right balance between classical policies like cohesion, agriculture, and the new policies, like migration, climate change, innovation".
"We are ready to sign the EU 2050 climate agreement with conditions", Hungary's Prime Minister Viktor Orban said.
Ahead of the summit on Thursday, Lithuanian, Latvian, Polish and Czech farmers were protesting by the EU institutions in Brussels and calling for EU leaders to allocate higher funds for agriculture in the European budget:
European Council summits are held every three months in Brussels.