Gunman kills himself after shooting seven dead in Czech hospital
Comments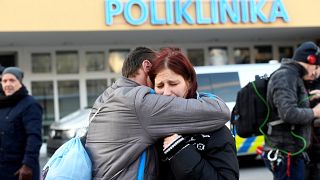 Copyright

Policie CR/Twitter
At least seven people were killed on Tuesday and two more were injured in a shooting at a hospital in the Czech city of Ostrava, authorities confirmed to Euronews.
Police confirmed shortly after 10:35 CET that they had found the gunman dead in his car and that he had "shot himself in the head".
Earlier in the morning, police had circulated a picture of the suspect on Twitter, warning the public that he was "dangerous, probably armed" but removed it after his death.
Authorities first received a report of a shooting at the hospital in the Poruba district of Ostrava, a city in the north-east of the country, at 07:19 CET and were at the scene five minutes later, they said on Twitter.
The shooting took place in the waiting hall at a trauma unit in the hospital.
A government spokesperson told Euronews that the hospital had been evacuated and that a nearby university had been closed as a precaution.
Police initially published a picture of a man they suspected of being behind the attack asking for the public for help in locating him but later deleted it from their feed, describing him instead as an "important witness".
Prime Minister Andrej Babis offered his condolences on Twitter, describing the attack as a "terrible tragedy". He has cancelled a planned trip to Estonia and will visit the scene in the early afternoon.
Click on the player above to watch Matthew Holroyd's report in The Cube.