Greta Thunberg at COP25: People are suffering and dying for climate change
Comments
By Euronews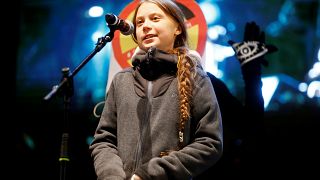 16-year-old activist Greta Thunberg made a second visit to the UN climate COP25 held in Madrid, on a day that focuses on "sustainable finance".
After a brief speech, she gave the floor to the other young climate activists from different parts of the world. "Their stories must be heard", she said. Thunberg explained that the purpose of the event was to create a platform "to share the stories that needed to be shared".
The activist also mentioned the importance of listening to indigenous peoples because of their valuable knowledge about nature.
Thunberg will attend later the high-level event promoted by UNICEF "Children and Young People, Against Climate Change,". Former Chilean President Michelle Bachelet and Ireland's former President Mary Robinson will also be present.
The climate emergency "is not a future problem, it is something that is already affecting us, people are suffering and dying for it today", said the Swede during her opening speech.