Euro 2020 draw: Who will complete the 'group of death'?
Comments
By Euronews with Rueters, AFP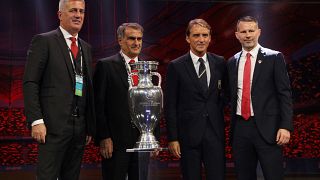 Copyright

REUTERS/Stoyan Nenov
Who will follow Portugal as the next winner of the UEFA Euro championship?
The draw for Euro 2020 championship was revealed on Saturday in Bucharest, Romania.
Players and fans alike are always on the lookout for a potential group of death. And Euro 2020 will not disappoint. Holders Portugal will face the most recent world champions in the shape of France (2018) and Germany (2014). Another team will join these three giants play off 'path A' (constituting Bulgaria, Hungary, Iceland and Romania). However, in a stunning example of administrative befuddlement, should Romania emerge triumphant, they will in fact escape the group of death and be thrown into the vortex of Group C, and in that scenario the team who get out of 'path D' (Georgia, Belarus, North Macedonia, or Kosovo) will have the curious pleasure. 
The tournament - 12 June to 12 July 2020 - will be played in 12 different European countries in a one-off format to celebrate the 60th anniversary of the European Championships.
Italy will host Turkey in the opening match in Rome on 12 June.
Take a look at the full draw for Euro 2020 below:
Group A: (Rome and Baku)
Turkey, Italy, Wales, Switzerland
Group B: (Copenhagen and St Petersburg)
Denmark, Finland, Belgium, Russia
Group C: (Amsterdam and Bucharest)
Netherlands, Ukraine, Austria, Playoff winner D *
Group D: (London and Glasgow)
England, Croatia, Playoff winner C, Czech Republic
Group E: (Bilbao and Dublin)
Spain, Sweden, Poland, Playoff winner B
Group F: (Munich and Budapest)
Play off winner A *, Portugal, Germany, France
Play off groups (to be played in March)
Playoff A:
Iceland, Romania, Hungary, Bulgaria
Playoff B:
Bosnia, Slovakia, Ireland, Northern Ireland
Playoff C:
Scotland, Norway, Serbia, Israel
Playoff D:
Kosovo, North Macedonia, Georgia, Belarus
* If Romania win playoff A, they will be moved to Group C and the winners of playoff D will move to Group F.