Cleanup operation underway after Albania experiences five earthquakes in two days
Comments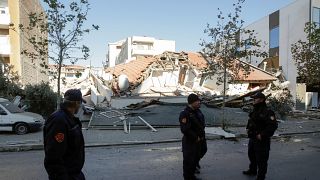 Copyright

REUTERS/Florion Goga
Albania was rocked by a 5.5-magnitude tremor on Wednesday, a day after the country experinced four quakes, including its strongest in decades that killed at least 39 people and injured over 650 more.
The latest quake struck at 16:45 CET, 19km southwest of Mamurras — close to the coastal city of Durres that was worst-hit by Tuesday's devastation — according to preliminary data from the USGS.
It came after Prime Minister Edi Rama said authorities were working to match spare hotel rooms to thousands of survivors left homeless.
"It is winter time, they can not stay under tents ... kids need to do their homework, people need to be warm and so on," he said during a visit to the coastal city of Durres, warning that it was "not something we can do like that," snapping his fingers.
As Albania marked a national day of mourning for Tuesday's magnitude-6.1 earthquake, recovery efforts were continuing in the rubble of collapsed buildings.
Some 4,000 rescue workers, including paramedics and military police, were involved in search and rescue.
Many Albanians who lost their homes slept in hundreds of tents laid out in gyms, sports fields and stadiums.
READ MORE: 'I only heard the crush of collapsing roofs' - Euronews speaks exclusively to tourist in Durres
Videos and photos posted to social media in the immediate aftermath showed residents in several communities looking through the devastation as others showed damaged videos and roads.
One video broadcast live from Fushë-Krujë, in Durres county, showed a child screaming as rescuers tried to pull him from the rubble of what appeared to be a collapsed building.
Speaking to Euronews from Tirana, developer Silver Turku said he had rushed outside his home after the quake and later saw a vehicle that had burst into flames.
"I was home and working as a freelancer and it was strong and lasted for about less than a minute," he said.
"After the earthquake, everybody in my in my neighbourhood got outside and we were making sure everyone was okay and needed help.
Turku said he had started filming his video around 10-15 minutes after the earthquake as emergency services fought to extinguish the fire.
"I don't know for sure why it was set on fire but people were saying that a spark in electricity might have happened after the alarm had set off," he added.
"It's a good thing that I was awake and went straight outside," he said. "But you feel powerless and hope for the best in these situations."
According to the US Geological Survey (USGS), the earthquake hit at 4 a.m. local time with the epicentre located 10km northwest of Shijak.
It also struck at a shallow depth of 10km.
"What makes an earthquake deadly are the buildings that fall on people," seismologist Paul Earle from USGS told Euronews Tonight, adding that an earthquake of this magnitude could cause significant damage in any area.
"This region seems especially hard-hit in those structures that are vulnerable to earthquake shaking" such as "non-ductile concrete-frame buildings and brick buildings" based on images coming from the country.
In Durres, local lawyer Domenika Gjeci initially said on Facebook the lighting had been cut in her home and she was listening to ambulance sirens passing by.
"Wish there is no damage to life," she wrote.
She later ventured out into the street and posted footage that she said showed the rubble of what was previously a three-storey market just 400m from her home.
"The earthquake has not stopped in Durres. God help people and those who are working in damaged buildings," she wrote about feeling further tremors, before adding: "Another one just fell."
Meanwhile, the EU said it was "ready to offer assistance" in the wake of the incident, and offered condolences to the victims.
"In the wake of the devastating earthquake that hit Albania early this morning, causing a loss of several lives and injuring many more, we express our deep condolences to the people and the authorities of the country," a joint statement from the European Commission's Vice-President Federica Mogherini and Commissioner Christos Stylianides said.
It added: "We remain in touch with Albania's government to identify best ways we can help at this difficult moment."
European Parliament President David Sassoli also tweeted his sympathies to the victims.
He said: "Deeply saddened to hear the news from the devastating earthquake in Albania.
"All of Europe stands in solidarity with the country and its people. Our thoughts go to the victims and their loved ones."