First transatlantic cocaine submarine found off the coast of Spain
Comments
By Euronews with Reuters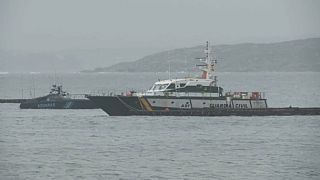 A submarine intercepted off the coast of Galicia, Spain, packed with thousands of kilos of cocaine may have travelled all the way from Colombia or Guyana, a journey of more than 4,000 miles (6,437 kilometres).
Spanish police have spent the last two days trying to refloat the submarine, which sank after it was stopped off the Spanish coast.
Two people were arrested on board but a third managed to escape.
When police finally got the submarine into port on Tuesday, they found massive quantities of cocaine on board.
Marta Fontán, a journalist at Faro de Vigo, told Euronews that there had always been suspicions in Galicia that cocaine arrived in submarines.
"Some of those arrested at one time or another said in some police investigation that yes, the drug arrived in submarines, but so far there was no evidence," she said.
"It is the first time that it is known that a submarine that leaves South America loaded with cocaine arrives here."
Fontán said that given the length of the voyage, the submarine would have to have been accompanied and refuelled on its journey and that the police were now looking for accomplices in Spain.