Boris Johnson unveils Conservative manifesto with pledge to leave EU by January 31
Comments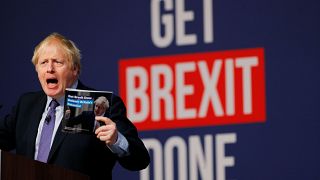 Boris Johnson promised £23.5 billion (€27.4 billion) worth of public spending and tax relief on Sunday as he unveiled the Conservative manifesto with a promise that Britain will be out of the European Union by January 31.
The prime minister repeated his "Get Brexit Done" campaign mantra, insisting that he would push his Withdrawal Agreement through parliament before Christmas if he wins an outright majority in the snap December 12 poll.
"Get Brexit done and we shall see a pent up tidal wave of investment into this country," Johnson said.
Read more: Corybn launches radical Labour manifesto with attack on billionaires
With three weeks to go, opinion polls suggest Johnson's party is ahead of opposition Labour and the pro-EU Liberal Democrats, but large numbers of undecided voters and the likelihood of unprececented levels of tactical voting make the outcome hard to predict.
The biggest Conservative pledge is to raise the threshold for National Insurance contributions, followed by extra spending on the health service including more nurses and other crowd-pleasers including a £2 billion (€2.2 billion) pothole repair fund for roads.
It was a far more modest package of voter benefits compared to the Labour Party, which on Thursday published an unashamedly populist manifesto setting out £80 billion in extra spending to be paid for by taxes on "billionaires" and energy companies.
But Johnson's main message is on the well-worn terrority of Brexit, in which he said he would make Brexit happen by the end of January and blamed parliament for thwarting his original plan to leave by October 31.
Labour has said it will negotiate a better Brexit deal with the EU within three months that it will put to voters in a new referendum during which its leader, Jeremy Corbyn, will remain neutral.
Labour spokesman Andrew Gwynne said Johnson's plans were "pathetic".
Held after three years of negotiations to leave the European Union, the December election is exposing wide cracks in Britain's political parties.
Conservative election pledges at a glance
£23.5 billion worth of tax cuts and public spending between 2020 and 2024
Raised threshold for National Insurance contributions
£22 billion further spending on flood defences, rail links and road improvements
No extension to the Brexit implementation deadline of December 2020
50,000 more nurses with — although The Guardian later reported that this figure includes 19,000 nurses who are already in training
£1 billion extra every year on social care
Immigration controls for lower-skilled migrants, but fast-track visas for doctors
Migrants from the EU will only be able to access welfare after five years
Scrap the Fixed-term Parliaments Act that it introduced in 2010
At least 2% of spending on defence, ahead of NATO target