More than a dozen migrants found in back of lorry on ship travelling to Ireland
Comments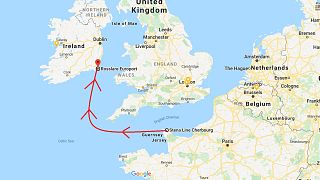 Irish authorities have launched an investigation after 16 migrants were found in a lorry container on an overnight ferry travelling from France to Ireland.
Police said on Thursday that officers were looking into potential breaches of immigration legislation, and carrying out medical and immigration assessments on each person.
It added that the "articulated truck" in which the migrants were found had been detained, and the driver and owners were assisting with enquiries.
The migrants were discovered on Thursday morning on the Stena Horizon ship, which left Cherbourg at 9 pm on Wednesday and docked at Rosslare port the following afternoon.
Speaking to Euronews, a Stena Line spokesperson said an employee had made the discovery in a "sealed trailer" during a routine check of the vehicle deck.
All the migrants were then taken out of the container and moved to a private lounge area to be looked after by crew for the rest of the journey.
They were all alive and in "good health", the spokesperson added, although their countries of origin are not yet known.
"Stena Line has alerted security and immigration officials in Rosslare so as the necessary arrangements can be made for the group on the vessel's arrival in Rosslare," the spokesperson added.
In a statement, Ireland's Minister for Justice and Equality Charles Flanagan said he was "extremely concerned" and appealed for anyone with information to come forward.
He said: "I was extremely concerned to learn of another incident of people being found in a sealed lorry container, on this occasion onboard a ferry.
"There is an active Garda investigation underway and I would appeal to anyone with any information on these nefarious activities to come forward. I welcome the statement issued by An Garda Síochána earlier today.
"The persons found in the lorry container are now being cared for by state services. As part of that care, they will receive initial medical assessments."
The news comes amid a heightened focus on human trafficking cases across Europe, following the discovery last month of 39 bodies in the back of a refrigerated lorry container in Essex.
All the victims were Vietnamese nationals and were believed to have travelled across Europe in search of a better life.