Corbyn and Johnson clash over Brexit in first TV debate
Comments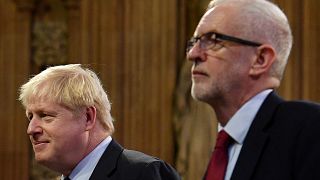 -
Copyright

Daniel Leal-Olivas/Pool via REUTERS/File Photo
UK Prime Minister Boris Johnson and his Labour Party rival Jeremy Corbyn clashed over Brexit in their first TV debate this Tuesday ahead of snap elections on December 12.
In his opening statement, Corbyn said he would get Brexit sorted by renegotiating a deal with the EU and giving people the final say.
Johnson promised the UK would leave the EU on January 31 and that he would secure a new trade deal with the bloc by the end of 2020.
"We certainly will come out on January the 31st, because we have a deal ... that is oven-ready," Johnson said in the debate.
"Will you campaign for leave or remain?" Johnson asked Corbyn, attacking him for his alleged lack of clarity on the matter. The Labour leader said he would carry out a referendum and "abide by the people's decision."
When he said his position on Brexit was clear, Corbyn drew laughs from the audience.
'Union more important than Brexit,' says Johnson
"Is the union worth sacrificing for Brexit?" a member of the audience asked. "This deal is damaging to this country, " Corbyn replied, arguing that it gave Northern Ireland a different status.
"We have a deal that keeps the whole of the UK together as we come out of the EU," the Prime Minister said. He claimed that Corbyn would strike a coalition deal with the Scottish National Party to enter number 10, which his rival denied.
"We are ruling out a referendum for Scotland," Johnson said. Replying to the question, he said the union was more important than Brexit.
NHS, Antisemitism, Prince Andrew... the debate besides Brexit
Besides Brexit, the two leaders were questioned about issues ranging from antisemitism to Prince Andrew, including the future of the NHS.
Johnson denied that the NHS would be on the table as the UK seeks to conclude free trade agreements with other nations. "There are no circumstances, whatever in which this government or any Conservative government will put the NHS on the table in any trade negotiation. Our NHS will never be for sale," Johnson said.
Questioned about accusations of antisemitism within his Labour Party, Corbyn replied: "Antisemitism is an evil and scourge within our society." He detailed the steps he had taken to tackle it at his party.
Asked about Prince Andrew's conduct Corbyn said on Tuesday there were serious questions to be answered.
Andrew, Queen Elizabeth's second son, denies an allegation that he had sex with a 17-year-old girl procured for him by his friend Jeffrey Epstein, who killed himself in a US prison in August while awaiting trial on sex trafficking charges.
Speaking on the same subject, Johnson said: "All our sympathies should be with the victims of Jeffrey Epstein, and the law must certainly take its course."
Asked about their positions on the monarchy, Corbyn said it could do with some improvement while Johnson called it beyond reproach.
In his closing statement, the Labour leader said: "This is a once in a generation election to end privatisation," to "give the NHS the funding it needs"(... ) and "give people the final say" on Brexit.
"The choice is very simple," the Conservative leader said in his closing remarks. "We can get Brexit done or spend another groundhog year on Mr Corbyn."
The debate was hosted by ITV and broadcast live from Salford in Greater Manchester from 9pm CET to 10pm CET(8pm  -9pm BST).
Euronews correspondent Vincent McAviney was in the studio following the debate.
Who won the debate?
According to a YouGov snap poll conducted immediately after the debate, 51% of respondents felt that Johnson won compared to 49% for Corbyn.
"On balance, this is probably better for the Labour leader, why? Because a dead heat when you are significantly behind in the polls is probably better news for you that the person who is leading," said YouGov's Political Research Manager Chris Curtis.
"It doesn't seem from these initial numbers to be a game-changing moment."
Johnson's lead narrowing
While Johnson is leading in opinion polls, his Conservative Party has seen its lead over the opposition Labour Party narrow to 12 points, according to an opinion poll published by YouGov for The Times and Sky News on Tuesday.
Ahead of Britain's election in just over three weeks' time, support for the Conservatives stood at 42%, down three points from YouGov's previous poll published on Saturday, while Labour was up two points at 30%.
The pro-European Union Liberal Democrats were unchanged on 15% and the Brexit Party was on 4%, also unchanged.
Debate preparations
Both leaders have been preparing for their head-to-head in their own way.
Corbyn, a lifelong pacifist, posted a video online of himself in a barbershop getting a beard trim.
Johnson took a more pugilistic approach, stepping into a boxing ring in Manchester and throwing punches for the cameras.
Suddenly wary of sending the wrong message, however, Johnson paused to explain to the attending media: "I don't want to be too aggressive here. This is more therapeutic boxing than aggressive boxing. This is boxing as therapy."