State Department watchdog faults Trump official for 'inappropriate' treatment of diplomat
Comments
By Dan De Luce and Abigail Williams with NBC News Politics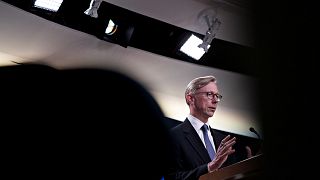 -
Copyright

Andrew Harrer Bloomberg via Getty Images file
WASHINGTON — A State Department watchdog on Thursday faulted President Donald Trump's top diplomat on Iran for sidelining a career employee after her loyalty was questioned by officials who cited her Iranian-American heritage and her work under the previous administration.
The department Inspector General's office found that Brian Hook's actions in 2017 were "inappropriate" when he agreed to prematurely end an assignment for Sohar Nowrouzzadeh, a career diplomat who was portrayed by other political appointees in the administration as untrustworthy due to her ethnic background and her work on theIran nuclear deal under former President Barack Obama.
The inspector general report recommended that Secretary of State Mike Pompeo "consider whether disciplinary action is appropriate" for Hook or others who failed to comply with rules that require career civil servants to be assessed only on merit.
The report carries echoes of the Ukraine impeachment inquiry now unfolding in Washington, in which senior diplomats have testified that the Trump White House repeatedly undermined and mistreated career professionals at the State Department and questioned their political loyalty to the president.
Former senior diplomats and Democratic lawmakers in Congress have accused the Trump administration of trying to inject politics into the non-partisan diplomatic corps and intimidating career civil servants from its first days in office.
"Congressional oversight efforts, reports from the State Department Inspector General, and public reporting have revealed a troubling pattern of abuse and retaliation against American career diplomats and civil servants," said a recent statement from the office of Rep. Eliot Engel, D-N.Y.
The administration has rejected the accusations, portrayed some diplomats testifying in the Ukraine inquiry as partisan bureaucrats and Secretary of State Pompeo has argued that Trump has reinvigorated the department.
The inspector general's report, which followed a request for an investigation by Democratic lawmakers in 2018, also examined allegations that four other career employees had been the subject of political retaliation. The inspector general's office said in two instances it did not find evidence of improper treatment. And in two other cases, the watchdog office said it not could not reach a definitive conclusion because of a lack of documents and an "inability to gain essential information from key decision makers" in the administration.
Nowrouzzadeh was removed in 2017 from her position in the Office of Policy Planning, a high-level office that was led at the time by Hook, several months ahead of schedule after "significant discussion" of her "perceived political views, association with former administrations, and perceived national origin," according to the inspector general's report.
"As background, she worked on the Iran Deal, specifically works on Iran within S/P (the Policy Planning office), was born in Iran and upon my understanding cried when the President won," political appointee Julia Haller wrote in an email quoted in the report.
Haller was responding to questions from other political appointees about Nowrouzzadeh's status in Hook's office after an article published the same day in the Conservative Review titled, "Iran Deal Architect Is Now Running Tehran Policy at the State Department."
Nowrouzzadeh was born in the United States, not Iran as the article alleged, and is a career diplomat who had served under both Republican and Democratic presidents.
Haller told the inspector general's office that she had conveyed the information because she believed it could raise a question of "loyalty to the United States."
Nowrouzzadeh forwarded the article attacking her to Hook and asked for his "thoughts on ways to respond to the article and potentially correct the record," the report said. She alleged that the author previously personally targeted her and expressed concerns about her physical and online safety. Hook did not respond to her email, according to the report.
The Conservative Review article was forwarded separately by Hook, then director of policy planning, to his deputy Edward Lacey — another political appointee — who told him Nowrouzzadeh was one of the career civil servants on detail to the office who were allegedly "Obama/Clinton loyalists not at all supportive of President Trump's foreign policy agenda." Lacey wrote that he had successfully ousted five other career diplomats from the Policy Planning office prior to Hook's arrival.
Hook told the inspector general's office that his deputy Lacey frequently commented on the political leanings of career staff, but he generally ignored such comments and would not have taken the information into consideration because he needed staff steeped in policy rather than just "political hacks."
Yet it was Hook who ultimately made the decision to end Nowrouzzadeh's detail in April instead of July as scheduled. He denied to the inspector general that he was motivated by her political opinions or national origin.
The report acknowledged "it did not identify emails or other documents in which Mr. Hook suggested that he was personally motivated to end the detail because of Employee One's perceived political opinions, perceived place of birth, or similar issues, and no witnesses made such statements."
However, the inspector general's office found inconsistencies in Hook's statements. Hook claimed Nowrouzzadeh was not a "go-getter" but later admitted he only met with her once. The OIG also determined Hook's decision to remove her was "inappropriate" as it did not refer to her competence or the quality of her work. Ultimately, the report concluded Hook's statements "appear to be a post-hoc justification for terminating the detail early."
The inspector general described Hook's decision on the matter as "acquiescence" to requests from other political appointees.
A former senior U.S. diplomat familiar with the case said Hook proved unwilling to protect a career diplomat apparently because he did not want to clash with Trump loyalists in the administration.
"Brian did not cover himself with glory in this regard, " the former official told NBC News. "His own ambition, his own insecurity kind of won over. He was prepared to offer her up as a sacrifice in order to bolster his bona fides" with the Trump team. "It was an act of cowardice."
The State Department and Brian Hook did not respond to requests for comment. But in responses attached to the report, the State Department and Hook strongly disagreed that anything improper had taken place.
Hook sharply criticized the inspector general's report, saying it was presented in a "highly politically motivated and biased manner."
Hook said he made a decision much earlier to appoint a new person to oversee Iran issues in the office, long before the Conservative Review article appeared, and that he did not end Nowrouzzadeh's detail due to perceptions about her political loyalties.
"It would be wrong to graft the motives of anyone in the Department to my motives or to assume the motives of others were my motives," Hook wrote.
Nowrouzzadeh, in her first public remarks to date on her case, said in a statement, "It is my hope that the Inspector General's findings pertaining to my case help prompt action that will guard against any further such misconduct by members of this or any future administration."
Nowrouzzadeh, who is currently on sabbatical, said there was no reason to shy away from robust debate inside the government over foreign policy, particularly among apolitical civil servants.
She said that "we should not fear, but rather value rigorous debate among colleagues with deep experience when formulating U.S. policy on matters critical to our national security.
"It is one of the ways we faithfully discharge our duties, as per our oaths and loyalty to the U.S. Constitution, above all else."