Two dead and three critically injured after US school shooting in Santa Clarita, California
Comments
By Euronews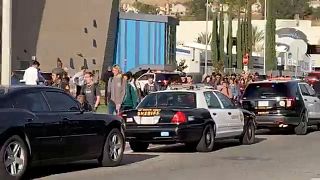 Two people have died and three others are critically injured after a shooting at a US high school.
It happened at Saugus High School in Santa Clarita, about 80 kilometres north of Los Angeles.
The suspect was described by police as an Asian male and a student at the school. He had been on the run but was later arrested.
Police identified the shooter as a 16-year-old of Asian origin and said he is in hospital in grave condition.
Six students were hit by gunfire in the attack, the Los Angeles police captain said, adding that a .45 caliber semi-automatic pistol was recovered at the scene.
Henry Mayo Hospital said one female patient had died and that it was treating two other "critically-injured" males.
Saugus High School and all schools in the William S Hart district were placed on lockdown while authorities flooded the scene.
The incident marked yet another school shooting in the United States, where repeated mass shootings in recent years have intensified the debate about gun control and the constitutional right for citizens to keep and bear arms.
Video from local NBC television showed a line of students walking away from the school and a row of police and fire department vehicles parked out front.
"I was really, really scared. I was shaking," one female student told NBC television, adding that she saw one person lying on the ground covered in blood.
The student said she was doing homework when people started running, and she hid under a table until police entered the building.