UK lorry deaths: Police arrest two more people after 39 Chinese nationals found in truck
Comments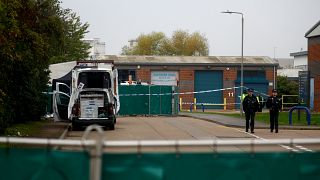 Police on Friday arrested two more people after 39 Chinese nationals were found dead in a lorry near London earlier this week.
A 38-year-old man and woman from Warrington were arrested "on suspicion of conspiracy to traffic people and on suspicion of 39 counts of manslaughter," Essex Police said in a statement.
The 25-year-old lorry driver, from Northern Ireland, was arrested on suspicion of murder and remains in custody.
Officers raided two homes in Northern Ireland on Thursday as part of an investigation into the deaths, which were discovered in a truck in Grays, a port on the River Thames in Essex, to the east of the British capital.
"We have since confirmed that eight of the deceased are women and 31 are men and all are believed to be Chinese nationals," said Essex Police in a statement.
On Thursday, the victims were moved to a mortuary at Broomfield Hospital, Chelmsford. Post-mortem examinations will begin on Friday, police added.  
Police said the trailer had arrived in nearby Purfleet from the Belgian port of Zeebrugge. The red tractor unit of the truck was believed to have originated in Northern Ireland. It arrived in Holyhead, Wales, from Dublin, Ireland.
UK Prime Minister Boris Johnson said he was appalled by the discovery. "We know that this trade is going on — all such traders in human beings should be hunted down and brought to justice," he said.
Truck tragedies
Hours after the discovery, police in nearby Kent found nine people alive in the back of a truck on the M20 motorway that links London and coastal ports.
For years, immigrants have attempted to reach Britain stowed away in the back of trucks, often seeking to reach the United Kingdom from the European mainland.
In Britain's biggest illegal immigrant tragedy in 2000, customs officials found the bodies of 58 Chinese people crammed into a tomato truck at the southern port of Dover. It had begun its journey in Zeebrugge.
In 2014, an Afghan migrant was found dead at Tilbury Docks, Essex, close to the scene of Wednesday's discovery. He was in a shipping container, with 34 Afghans who survived.
And in 2015, the bodies of 71 people were found in an abandoned truck on a motorway in Austria.
Bulgarian connection
Bulgaria's foreign ministry said the tractor unit of the truck was registered in the coastal resort of Varna by a company owned by an Irish woman on June 19, 2017. However, it had left Bulgaria the next day and never returned.
Bulgarian Prime Minister Boyko Borissov said his country had no other connection with the deaths.
Speaking to BTV, Borissov said Bulgaria was cooperating with the British authorities in the investigation.
"The truck had been registered in 2017 in Bulgaria by an Irish woman. It then left the country and never re-entered. So there is no way that we can be connected, except from the registration plates of the truck," he said.
Voyage from Belgium
Ambulance workers discovered the bodies after being called at 1:40 a.m. to the Waterglade Industrial Park in Grays. It was unclear who called the ambulance service.
All those in the container were pronounced dead at the scene.
Police said the trailer had travelled from Belgium to Purfleet and landed shortly after 12.30 a.m. local time on Wednesday. It left the port on the truck at about 1.05 a.m. The ambulance services notified police about the discovery of the bodies at 1.40 a.m.
Police earlier said the truck had travelled through Ireland and then by ferry to Holyhead, Wales, but that theory changed following information from Zeebrugge.
The tractor unit is thought to have travelled from Northern Ireland to collect the trailer.
Pippa Mills, Deputy Chief Constable of Essex Police, told reporters that the tractor unit and trailer had been moved to a secure location at Tilbury Docks so that bodies can be recovered "whilst preserving the dignity of the victims."
She said: "It is absolutely imperative that the operation is conducted with the utmost respect for the 39 people who have lost their lives. We are yet to identify them and must manage this sensitively with their families."
She added: "I do need to stress that this will be a lengthy inquiry."
'Desperate and dangerous'
Britain's National Crime Agency said its specialists were working to "urgently identify and take action against any organized crime groups who have played a role in causing these deaths."
It said in May that the number of people being smuggled into Britain via trucks was on the rise.
Jeremy Corbyn, leader of Britain's opposition Labour Party, said the latest deaths were a human tragedy that needed answers.
"Can we just think for a moment of what it must have been like for those 39 people, obviously in a desperate and dangerous situation, for their lives to end, suffocated to death in a container," he said.