Opposition leader Ludovic Orban invited to be Romania's new prime minister
Comments
By Euronews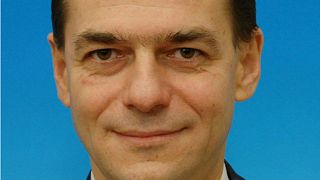 Copyright

Facebook/Ludovic Orban
Romania's centrist President Klaus Iohannis said on Tuesday he has appointed opposition Liberal Party leader Ludovic Orban as prime minister-designate to form a transitional government until a parliamentary election next year.
Prime Minister Viorica Dancila's centre-left government collapsed this month after losing a no-confidence vote in parliament, raising the prospect of a government with limited support from a fragmented opposition.
Orban must now put together a cabinet and governing programme which will need to gain parliament's vote of confidence.
He later said in a joint press conference with Iohannis that he was "honoured" to take on the responsibility.
In a Facebook statement explaining the decision, Iohannis said the Liberal Party was "the only party that came to the consultations and said directly that it will assume governance during this transitional period".
He then appealed to other parliamentary parties, who would prefer to see an early election, to "understand that we are in a political crisis" and urged the government to be "set up as soon as possible".
"I fully trust that the Orban government will deal with the most serious way of resolving all the important issues," he added.
"I wish the successful prime minister an inspiration, in the formation of the government and in the negotiation of the votes for the inauguration."
But the country's second-biggest opposition party, Save Romania Union (USR), has already said that it "remains firmly in position" of refusing to be part of an "unstable" government formula — and has called for early elections instead.
In a statement released earlier on Tuesday, it said: "USR and USR Plus Alliance have consistently said that we will enter the government only after the early parliamentary elections or in the term and the position remains firm.
"In the current political context, and government formula would be unstable, unable to make the necessary reforms and would depend on the PSD — in any of its parliamentary forms — which will become the arbiter of any strategy."
It then laid out a series of conditions, including the abolition of a law for a compensatory appeal that has led to more than 20,000 convicts being released from prison, and for "parliament's consultation on the proposal for the position of European Commissioner for Romania".
Such conditions, the party added, would possibly persuade parliamentarians to consider voting for "a transitional office that assumes a limited lifespan for the preparation of elections" only.