Global Fund raises its targeted €12 billion to fight pandemics
Comments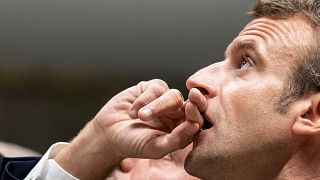 -
Copyright

Patrick Seeger/Pool via REUTERS/File Photo
Responding to Emmanuel Macron's rallying cry, donors achieved the targeted $14 billion (€12,7 billion) to fight HIV/AIDS, tuberculosis and malaria for the next three years.
After last-minute pledges by Madagascar, United Arab Emirates, France and the Bill and Melinda Gates Foundation, the Global Fund was able to reach its target at the Sixth Replenishment Conference to fight pandemics - making it the largest amount raised by the organisation.
Early in the morning, the French president urged donors to increase their commitments and many answered in his favour.
All G7 countries, except Japan, increased their commitments with at least 15%, with France itself making a last-ditch effort to go up to a 20% increase.
The host country added $60 million to its initial pledge along with Microsoft founder Bill Gates also adding the same amount to his donation.
After a hectic morning, Macron announced they had raised $13,920 billion (€12,63 billion) and the missing €80 million would be collected by December.
Peter Sands, Executive Director of the Global Fund, welcomed the result, saying:
"We are tremendously grateful to President Macron for his incredible leadership over the past year. With the incredible support of partners and donors around the world, we succeeded in reaching over US$14 billion to help save 16 million lives."
Macron praised the countries' efforts to up their donations but added he believed Japan could do better, saying he still wanted to convince the Japanese to increase their contribution.
The Global Fund Forum aims to save 16 million lives within the next four years as well as averting 234 million infections worldwide.
Other big donors included the US who pledged €4.24 billion and the UK who pledged and more than €1.5 billion.
Germany pledged €1 billion, followed by Italy who pledged €161 million.
Canada pledged €634 million.
Other significant pledges include the European Union with €550 million, Sweden with almost 2.85 billion Swedish kronar and the Netherlands with €156 million.
Norway who had planned to pledge 2 billion krone, changed their pledge last minute after Macron called on them to raise the donation and added 20 million Norwegian krone to their total pledge.
To the surprise of many, one of Europe's smallest nations, Luxembourg raised their donation by 15% to total €9.3 million for the next three year period.
Outside of Europe, other big donors included India who donated more than 19 million euros and China who pledged more than 16 million.
Qatar and Saudi Arabia, who Macron had earlier urged to raise their donations, pledged more than 45 million euros - increasing their contribution by 5 times. Saudi Arabia donated more than 27 million euros - 100% raise for the kingdom.
Macron praised the efforts of these countries but said he believed they could do more next time.
"Mobilising the Gulf countries was this morning's big task but I think we can push them to do more," he said, pointing the finger at Saudi Arabia who he judged had no made that big of a pledge.
The Bill Gates and Melinda Foundation were the biggest private donors, pledging an initial 700 million dollars but adding 60 million euros to match Macron's last-minute increase.
The CEO of the Malaria No More UK, James Whiting, said: "We are delighted that world leaders heard the call to step up the fight and have committed the full amount of investments needed to ensure that the Global Fund can continue its vital work over the next three years."