Turkey threatens EU critics with open border as Syria conflict intensifies
Comments
By Euronews with Reuters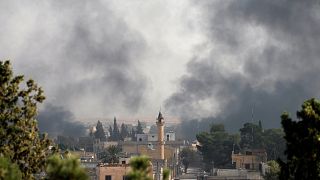 -
Copyright

REUTERS/Murad Sezer
Turkish troops and allied Syrian rebels have encircled two border towns in northeast Syria, as the Turkish military offensive that has drawn condemnation from around the world closes in on securing its targets.
The towns held are by the US-backed Kurdish forces.
Major Youssef Hamoud, of the Syrian rebels allied to Turkey, said the two towns of Ras al Ain and Tel Abyad were now surrounded. The towns are a main goal of the Turkish military campaign to oust Kurdish-led fighters who control its area, where Ankara says it wants to set up a so-called safe zone.
Turkish President Recep Tayyip Erdogan has defended Turkey's actions following worldwide condemnation of the offensive. Claiming his critics "are not honest", he told a meeting of his AK Party he would open the door to Europe for 3.6 million Syrian refugees, currently in Turkey, if European countries label Turkey's military incursion in Syria as an occupation.
There are fears the chaos caused by the fighting in the region could lead to the re-emergence of so-called Islamic State (ISIS).
Euronews explains: Why is Turkey fighting Syria's Kurds and how is the US involved?
The Kurdish-led force in northeast Syria confronted and "repelled " the Turkish ground attack, Mustafa Bali, spokesman for the Syrian Democratic Forces, said on Twitter earlier on Thursday.
The Kurdish-led force later said that a Turkish airstrike had hit a prison that holds detained Islamic State militants.
"These attacks on prisons holding Daesh (IS) terrorists will lead to a catastrophe the consequences of which the world may not be able to handle later on," a statement from Kurdish leadership said.
"One of the prisons that ISIS detainees (are) held in was struck by Turkish airstrike," the Syrian Democratic Forces (SDF) said.
The EU has condemned the Turkish offensive, along with a number of other countries.
France's foreign minister Jean-Yves Le Drian says he has called for an emergency meeting of the coalition of more than 30 countries created to fight Islamic State to discuss Turkey's offensive against Kurdish
He told France 2 television, the coalition should meet as soon as possible because Islamic State could take advantage of the change on the ground.
The offensive comes after US President Donald Trump ordered the withdrawal of US troops from the area, a move widely criticised as allowing Kurdish forces - who have been instrumental in the defeat of ISIS - to be abandoned by their ally, the USA.
Talking to PBS on Wednesday evening, Secretary of State Mike Pompeo said that "the United States didn't give Turkey the green light" to launch its offensive.
He added however that "the Turks have a legitimate security concern" and that "they have a terrorist threat to their south, we've been working to make sure that we did what we could to prevent that terror threat from striking the people in Turkey."
Reports of casualties
Turkish forces have killed more than 100 Kurdish fighters so far in the military campaign, Erdogan has said.
The Syrian Democratic Forces (SDF) said Turkish bombing of the border region killed five civilians and injured dozens more on Wednesday.
According to the governors' offices of southeastern Turkish provinces six people including a 9-month-old baby were killed during mortar and rocket fire from Kurdish positions in Syria into Turkish border towns.
The SDF called for a no-fly zone on Wednesday to "stop attacks on innocent people", adding on Twitter that Turkish jets have bombed military positions and civilian villagers, leading to reports of casualties.
SDF military media official Marvan Qamishlo told Reuters the SDF clashed with Turkish forces along the border between them: "The clashes are ongoing almost along the entire border. The SDF is responding."
Turkey's aim in Syria
Erdogan said the offensive, dubbed "Operation Peace Spring", would aim to eliminate threats from the Syrian Kurdish YPG militia and the Islamic State militants and enable the return of Syrian refugees in Turkey after the formation of a "safe zone" in the area.
"Our mission is to prevent the creation of a terror corridor across our southern border, and to bring peace to the area," Erdogan said on Twitter. "We will preserve Syria's territorial integrity and liberate local communities from terrorists."
The SDF is led by the YPG, a Kurdish militia group deemed a terrorist organisation by Turkey, due to their ties to militants waging an insurgency inside Turkey.
More: Why does Turkey want an offensive again Syria's Kurds and how is the US involved?
International condemnation
European Commission President Jean-Claude Juncker said Turkey must end its offensive, warning no European funding would be granted for a "security zone".
"Turkey must cease the ongoing military operation. It will not work. And if Turkey's plan is to create a security zone, do not expect funding from the European Union," he told the European Parliament in Brussels.
French President Emmanuel Macron accused Turkey of "putting millions of people at humanitarian risk", warning Erdogan "Turkey will be responsible in front of the international community for helping Daesh (so-called Islamic State) building a Caliphate".
French Foreign Minister Jean-Yves Le Drian called for an emergency meeting of the coalition created to fight Islamic State to discuss Turkey's offensive.
Le Drian said on France 2 television that the coalition, which includes more than 30 countries, needs to discuss a range of issues because Islamic State could take advantage of the changes on the ground to re-emerge.
"It (the coalition) needs to say today what are we going do, how do you, Turkey, want to proceed and how do we ensure the security of places where fighters are held? Everything needs to be on the table so that we are clear," Le Drian said.
More: Macron - Turkey's military campaign in Syria helping ISIS build caliphate
The European Union rejected any Turkish plans for a safe zone for refugees, saying it would not provide aid there.
"The EU calls upon Turkey to cease the unilateral military action," it said in a joint statement of the 28 member states.
"It is unlikely that a so-called 'safe zone' in north-east Syria, as envisaged by Turkey, would satisfy international criteria for refugee return."
France's European affairs minister said that France, Britain and Germany had called for the United Nations Security Council to meet to discuss the Turkish offensive.
Asked by Euronews about the latest on Turkey's attack and Trump's call for France to repatriate its ISIS fighters, a top French government source here in Lyon told us, sounding irritated: "They (the US) should just go there themselves".
Britain's foreign secretary Dominic Raab said he had "serious concerns" about Turkey's offensive in northeast Syria.
"This risks destabilising the region, exacerbating humanitarian suffering, and undermining the progress made against Daesh (Islamic State) which should be our collective focus," Raab said in a statement.
Dutch Foreign Minister Stef Blok said he had summoned the Turkish ambassador after Ankara launched a military incursion into Syria.
"The Netherlands condemns the Turkish offensive in northeast Syria," Blok said in a statement. "We call on Turkey not to continue on the path they are going down."
Turkey's military operation in northeastern Syria must be restrained, NATO Secretary General Jens Stoltenberg said on Wednesday, adding that it was important not to destabilise the region any further.
Stoltenberg said that Turkey had "legitimate security concerns" and had informed NATO about its attack against Kurdish fighters in Syria.
The United Nations Security Council will meet on Syria behind closed doors on Thursday, diplomats said.
Egypt called for an emergency meeting of the League of Arab States over Turkey's offensive into Syria, the Egyptian foreign ministry said.
"Egypt condemned in the strongest terms the Turkish aggression on Syrian territory," the ministry said in a statement, adding that the offensive "represents a blatant and unacceptable attack on the sovereignty of a brotherly Arab state."
Donald Trump said in a statement released by the White House that the US "does not endorse this attack", adding it is a "bad idea". He added that he would devastate Turkey's economy if Ankara's incursion in Syria wipes out the Kurdish population there. "I will wipe out his [Erdogan's] economy if that happens. (...) I hope that he will act rationally," he said.
"We have one of three choices: Send in thousands of troops and win Militarily, hit Turkey very hard Financially and with Sanctions, or mediate a deal between Turkey and the Kurds!" Trump said on Thursday.
"I hope we can mediate," Trump said when asked about the options by reporters at the White House.
"Turkey knows where I stand," he said. Trump said he did not think Americans wanted to see the U.S. military sent back into the region.
"We are going to possibly do something very very tough with respect to sanctions and other financial things," Trump said without elaborating.
How Donald Trump paved the way for Turkey's offensive
Turkey had been poised to advance into northeast Syria since US troops began vacating the area in an abrupt policy shift by Donald Trump, widely criticised in Washington even by some of the President's Republican supporters.
Nikki Haley, former US ambassador to the United Nations, warned that his decision meant leaving US allies in the region "to die".
Following the widespread criticism to withdraw troops, Trump took to Twitter to warn Erdogan he would "obliterate" Turkey's economy if it did anything he, "in my great and unmatched wisdom", considered to be "off-limits".
Meanwhile, a leading Republican senator, usually a vocal ally of Trump, said he plans to introduce a package of "devastating" sanctions to hit Turkey over its military operation, expressing concerns over the fate of Kurds in the area.
Senator Lindsey Graham has repeatedly criticized Trump's decision to withdraw US troops from northeastern Syria.
Graham told media outlet Axios in an interview published on Wednesday that the sanctions would strike the Turkish economy and military.
World powers fear Turkey's invasion could open a new chapter in Syria's war and worsen regional turmoil.
In the build-up to the expected offensive, Syria had said it was determined to confront any Turkish aggression by all legitimate means.