'A disaster is in the making': Lawmakers warn Trump's withdrawal of troops from Syria enables ISIS
Comments
By Rebecca Shabad with NBC News Politics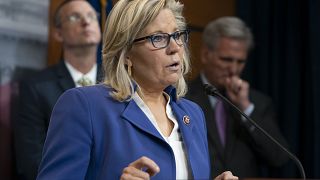 Copyright

J. Scott Applewhite AP file

-
WASHINGTON — Democrats and Republicans slammed President Donald Trump on Wednesday after Turkey launched a military operation in northern Syria, three days after Trump announced that he was withdrawing U.S. troops from the country's border region.
Lawmakers from both parties warned that Trump's move was dangerous, with some predicting that it would only bolster the Islamic State in Iraq and Syria.
Sen. Lindsey Graham, R-S.C., a defense hawk and Trump ally, wrote on Twitter that if reports were accurate about Turkey entering northern Syria, "a disaster is in the making."
"Pray for our Kurdish allies who have been shamelessly abandoned by the Trump Administration," he tweeted. "This move ensures the reemergence of ISIS."
Graham wrote that he would lead an effort in Congress to make Turkish President Recep Tayyip Erdogan "pay a heavy price" for the incursion into Syria and urged Trump "to change course while there is still time by going back to the safe zone concept that was working."
In an interview with Axios on Tuesday night, Graham said of Trump, "I think he's putting the nation at risk, and I think he's putting his presidency at risk."
Rep. Will Hurd, R-Texas, tweeted in response to a threat from Graham to sanction Turkey, "Just as the Kurds had our backs against ISIS, we must have theirs. The U.S. must do whatever it takes to hold Turkey accountable for compromising our security."
Rep. Liz Cheney, R-Wyo., the House Republican Conference chair and daughter of former Vice President Dick Cheney, who advocated for the invasion of Iraq in 2003, tweeted Wednesday, "News from Syria is sickening. Turkish troops preparing to invade Syria from the north, Russian-backed forces from the south, ISIS fighters attacking Raqqa. Impossible to understand why@realDonaldTrump is leaving America's allies to be slaughtered and enabling the return of ISIS."
House Minority Leader Kevin McCarthy, R-Calif., a close ally of Trump, blasted the Turkish operation but stopped short of criticizing the U.S. president.
"A Turkish military advance into Syria threatens to halt momentum against ISIS, directly assaults our SDF partners, and could give the likes of al-Qaeda and Iran new footholds in the region," he tweeted. "Turkey should stop immediately and continue to work with the US to secure the region."
Democrats laced into the president after Turkey's president announced that the military operation had begun.
"Turkey must pay a heavy price for attacking our Syrian Kurdish partners," Maryland Sen. Chris Van Hollen wrote on Twitter. "Senators on both sides of the aisle won't support abandoning the one regional group most responsible for putting ISIS on its heels. Our bipartisan sanctions bill is being finalized now."
Florida Rep. Donna Shalala called Trump's decision to withdraw troops from Syria "the worst kind of betrayal" of the Kurds, whom the U.S. had vowed to protect.
Amid the condemnation from members of Congress, Trump defended the removal of U.S. troops from the Turkey-Syria border in a series of tweets Wednesday morning in which he blasted the loss of U.S. blood and treasure in the Middle East over the last two decades.
"GOING INTO THE MIDDLE EAST IS THE WORST DECISION EVER MADE ... IN THE HISTORY OF OUR COUNTRY!" Trump wrote. "We went to war under a false & now disproven premise, WEAPONS OF MASS DESTRUCTION. There were NONE! Now we are slowly & carefully bringing our great soldiers & military home. Our focus is on the BIG PICTURE! THE USA IS GREATER THAN EVER BEFORE!"