Trump goes to war with Minneapolis over $500,000 security bill
Comments
By Allan Smith and Dartunorro Clark with NBC News Politics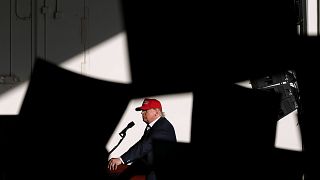 -
Copyright

Chip Somodevilla Getty Images file
Amid an escalating impeachment inquiry, President Donald Trump has found a new target to zero in on — the Democratic mayor of Minneapolis.
Trump on Tuesday claimed that Minneapolis Mayor Jacob Frey is trying to bully him out of holding a rally in the city Thursday by sticking his campaign with a security bill in excess of $500,000.
"Someone please tell the Radical Left Mayor of Minneapolis that he can't price out Free Speech," Trump said in a tweet. "Probably illegal! I stand strongly & proudly with the great Police Officers and Law Enforcement of Minneapolis and the Great State of Minnesota! See you Thursday Night!"
"The lightweight mayor is hurting the great police and other wonderful supporters," Trump said in another tweet, adding that Minnesotans should "dump" Frey and Rep. Ilhan Omar, D-Minn., a frequent target of the president's ire.
Frey responded in a tweet that "someone" should "tell the President of the United States that he can afford to help pay for the extra time our officers will be putting in while he's in town."
"Welcome to Minneapolis where we pay our bills, we govern with integrity, and we love all of our neighbors," Frey said in another tweet.
In a statement Monday night, Trump campaign manager Brad Parscale accused Frey of "abusing the power of his office and attempting to extort President Trump's re-election campaign by conjuring a phony and outlandish bill for security in an effort to block a scheduled Keep America Great rally."
The feud broke out after officials in Minneapolis sent the Target Center, where Trump's Thursday rally is slated to be held, a $530,000 bill for policing and other costs associated with the event. The Target Center then forwarded the bill to the Trump campaign, threatening to keep them from using the venue.
The Trump campaign responded by threatening to sue the Target Center's management firm for breach of contract, adding that the U.S. Secret Service is "solely responsible for coordinating security." The campaign pointed to then-President Barack Obama's 2009 health care rally at the arena, which rang up a significantly lower security bill.
When Trump first announced the Minneapolis rally late last month, Frey said he would not be able to prevent the gathering but said Trump's "message of hatred will never be welcome in Minneapolis." On Monday, city officials told the Minneapolis Star Tribune they were unsure of the total cost for the rally, but that they expected it to be expensive.
The mayor's office did not immediately respond to a request for comment from NBC News asking why the bill was so high. The Trump campaign did not immediately respond to a request from NBC News asking why this bill was any different from other security bills that municipal governments have sought to have the campaign pay — which in many cases, it did not, as an NBC News/Center for Public Integrity report earlier this year found.
That report detailed 10 city governments that were still waiting on the Trump campaign to pay similar, albeit cheaper, invoices in connection with Trump rallies as of June. The Trump campaign did not immediately respond to NBC News asking if it has since paid any of those bills.
In total, Trump's campaign as of June owed city governments a sum of more than $841,000. The largest invoice came from the president's El Paso, Texas, rally from earlier this year, in which city officials billed the campaign more than $470,000.
The Secret Service does not reimburse local governments for assistance during campaign events because it is not funded to do so, a spokesman told NBC News in June.
The brouhaha took place amid the backdrop of a new Minneapolis Police Department policy, announced last week, which prevents off-duty officers from wearing their official uniforms at political rallies or when publicly endorsing candidates. Ahead of the president's Minnesota rally, the local police union is showing its support for Trump by selling red "Cops for Trump" shirts after the city implemented that policy
Speaking with Fox News on Tuesday, Lt. Bob Kroll, a Minneapolis police officer and the president of the police union, excoriated the uniform policy and criticized the city over the large security bill.
"It's disparate treatment," he said, noting that past administrations have come to the city and uniformed officers served as a backdrop. "They have not charged nearly that much for other events."
Trump promoted the "Cops for Trump" shirts on Twitter, calling them "REALLY NICE!"
"Actually, I LOVE the Cops for Trump shirts," Trump wrote. "Want to bring some home. I am with you 100%!!!!"