Watch again: Boris Johnson dares opposition to call vote of no confidence
Comments
By
Luke Hurst
&
Cristina Abellan-Matamoros
with
Reuters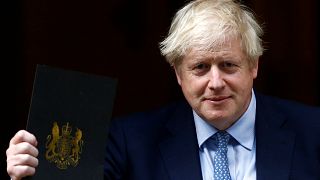 British Prime Minister Boris Johnson urged MPs to call a vote of no confidence in his government in his first statement to parliament since the Supreme Court ruled its suspension unlawful.
He was defiant and unapologetic as he addressed MPs just hours after returning from the United Nations after parliament was recalled by the speaker, John Bercow, "as a matter of urgency."
Later in the evening, Jacob Rees Mogg told MPs that if any opposition leader asked for a vote of no confidence, the government would agree to it.
He said it was "an unprecendented, but time-limited offer."
"I think the people of this country have had enough," Johnson said earlier. "This parliament must either stand aside... or bring a vote of confidence and finally face a day of reckoning with the voters."
Read more:
'This is a dead parliament': Attorney General in furious rant at UK MPs
What next for Boris Johnson after Supreme Court ruling?
Brexit Guide: Where are we now?
"They have until the House rises today to table a motion of no confidence in the government. Will they have the courage to act?"British Prime Minister Boris Johnson said that he would not ask the European Union for an extension to Brexit beyond October 31, despite a law passed earlier this month that compels him to do so.
After some four hours of questions from MPs, Johnson was asked whether he would request an extension to the Brexit deadline.
"If he doesn't get a deal through this House, or a no-deal through this House by the 19th of October, will he seek an extension from the European Union to the 31st of January," he was asked in parliament.
"No," Johnson replied. He had previously said the government would respect and the law, and leave on Oct. 31.
Many lawmakers from Labour urged the prime minister to tone down his rhetoric and to avoid using the language of surrender and betrayal. Many invoked the memory of their colleague Jo Cox who was murdered just before the vote.
After one lawmaker Paula Sherriff told the House she had received death threats, with many echoing the prime minister's own words, Johnson replied: "I have never heard so much humbug in my life", sparking uproar on the opposition benches.
Earlier, Johnson began his statement with a comment on Tuesday's Supreme Court ruling, telling MPs the top judiciary was "wrong to pronounce on a political question at a time of great national controversy".
He called the house a "paralysed parliament," adding there had been "three years of dither and delay" on Brexit. "This government that I lead has been trying to get us out," he said.
He added that he was told that Brussels would not reopen the withdrawal agreement, but that the government was "discussing a new deal."
The prime minister accused MPs of trying to block Brexit from happening completely: "The people of this country can see clearly what is going on," he said. "This Parliament will keep delaying, it will keep sabotaging the negotiations."
Johnson called it a "delusion" that members of the public would forget about the past three years and vote to remain in the EU if a new referendum was voted.
"We will not betray the people that sent us here," he said. "We will not abandon the priorities that matter to the people."
Get a Brexit extension first and then we'll have an election, says Corbyn
Labour leader Jeremy Corbyn called Johnson's statement "ten minutes of bluster" and said he should have resigned after the ruling. He criticised Johnson's government for failing to act on climate change and failing to bail out travel giant Thomas Cook.
"This government is failing the people of Britain and the people of Britain know it," he said.
As well as accusing Johnson of putting no effort into negotiations with the EU, Corbyn raised recent allegations raised by the Sunday Times on a grant to a firm owned by a US businesswoman he was close to when he was Mayor of London.
"No prime minister is above the law," he said. "Quite simply for the good of this country, he should go."
Johnson retorted that negotiations with the EU were difficult but that they were making progress, adding that an act passed by MPs to avoid a no-deal Brexit has made negotiations harder.
Johnson then claimed that Corbyn is being "gagged", "muzzled" and held captives by his colleagues.
"I say free the Islington One," he joked.
"He can't control his own party, he can't decide whether he's for leave or for remain, he's being captive by his colleagues," the PM added,
Remove Johnson and remove no-deal threat, says SNP spokesman
The SNP Westminster leader Ian Blackford said the prime minister needed to be removed to eliminate the threat of a no-deal Brexit before it would agree to hold a national election.
"Let me be clear to the prime minister.
"The opposition must unite to trigger a vote of no confidence to bring this chaotic government down."
"Once we have removed the prime minister, removed the threat of no deal, the people must have their say through a general election as quickly as is possible," he told parliament.
Speaker John Bercow rebuked Blackford for calling on the prime minister to "end his lying." Bercow said he wanted to make sure that Blackford was not making allusion that the prime minister lied to the House of Commons. Blackford agreed.
Other questions to the prime minister
Progress with the EU
Asked why the EU had not received any new proposals for a Brexit deal, Johnson said that progress was being made and it is not assisted by tabling proposals today.
'Brexit propaganda' in schools
Labour MP Stella Creasy said she was told by a constituent that "Brexit propaganda" was being "broadcast" in primary schools on digital screens. She said this was taking place "without the prior consent of the schools."
Johnson answered that this was news to him but that his government was "spending more" in primary schools across the country by "levelling up."
Has Johnson apologised to the Queen?
Answering a question from Anna Soubry, Johnson said: "I would not comment on my conversations with Her Majesty."
'What happened on Tuesday?
Supreme Court judges unanimously agreed that the suspension of parliament was unlawful.
"The decision to advise Her Majesty to prorogue parliament was unlawful because it had the effect of frustrating or preventing the ability of parliament to carry out its constitutional functions without reasonable justification," Supreme Court President Brenda Hale said, reading out the historic decision.
"Parliament has not been prorogued. This is the unanimous judgment of all 11 justices," she added. "It is for parliament, and in particular the speaker and the (House of) Lords speaker, to decide what to do next."
What did the speaker decide to do next?
John Bercow, the speaker of the House of Commons, appeared in Westminster shortly afterwards to announce MPs would sit on Wednesday.
They had previously not been due back to parliament until mid-October.
"I welcome the judgement this morning of the Supreme Court," said Bercow. "That judgement is unanimous, that judgement is unambiguous and that judgement is unqualified.
"As you all now know that judgement, is that the prorogation of parliament was unlawful.
"Unlawful because it prevented or frustrated parliament in the discharge of its core duties. And it did so at a crucial time for our country. The citizens of the UK are entitled to expect that parliament does discharge its core functions, that it is in a position to scrutinise the executive, to hold ministers to account and to legislate if it chooses."
How Prime Minister Boris Johnson react?
Johnson, in New York for the UN General Assembly, said: "And so I just want to say to everybody watching back home, for the avoidance of doubt I have the highest respect, of course, for our judiciary and for the independence of our courts.
"But I must say I strongly disagree with this judgement.
"And we in the UK will not be deterred from getting on and delivering on the will of the people to come out of the EU on October the 31st, because that is what we were mandated to do."
Johnson spoke to Queen Elizabeth after the Supreme Court ruled he acted unlawfully when he advised her to suspend parliament just weeks before Brexit, a government official said on Tuesday.
Asked if it had been an apologetic call, the official declined to discuss the content of the conversation.
How did Johnson's critics react?
They called on him to stand down.
"This unequivocal unanimous judgement from the supreme court makes clear that Boris Johnson is not fit to be prime minister," said Jo Swinson, leader of the Liberal Democrat party. "He has acted unlawfully in trying to silence parliament, trying to silence the voices of the people because he does not want to be held to account, he does not want to have to answer questions about his disastrous Brexit policy, and in doing so he was prepared to mislead the Queen and indeed to mislead the whole country. He is not fit for office. He should resign."
"Well, it's extraordinary," said Scottish First Minister Nicola Sturgeon. "Moments like this politicians have a tendency to engage in hyperbole but there is nothing by way of exaggeration in saying that this is the most significant constitutional judgement we've heard in our lifetimes.
"The supreme court this morning has found that the prime minister acted unlawfully, that he did so effectively to evade scrutiny and accountability, he had no good reason for doing so, and he did all of this at a time of political and constitutional crisis. It is genuinely exceptional and unprecedented."
"It demonstrates contempt for democracy and an abuse of power by him," said opposition leader Jeremy Corbyn, calling on Johnson to step down.
"Today is not a win for any individual or cause, it's a win for parliamentary sovereignty, the separation of powers and the independence of our British courts," said campaigner Gina Miller. "Crucially today's ruling confirms that we are a nation governed by the rule of law. Laws that everyone even the prime minister (Boris Johnson) is not above. Do not let the government play down the seriousness of the judgement today, a unanimous judgement, they have spoken unequivocally. On what I say to the Prime Minister is to repeat Lady Hale's (President of the Supreme Court) words, 'the order was a blank piece of paper, parliament was not prorogued, MPs should turn up for work tomorrow and get on with scrutinising this government'.
"This is a marvellous day for democracy," said Ian Blackford, leader of the Scottish National Party in the UK parliament. "This is a very clear indication to (prime minister) Boris Johnson and to the government that you cannot shut down parliament with impunity. This is an absolutely stunning judgement by the Supreme Court today. None of us anticipated that we would have results such as this. It is now very clear that we all have a job to do, we must be back in Parliament immediately. I know the speaker is going to be consulting with all the party leaders. We want to get back to work. And quite frankly on the back of this Boris Johnson must resign immediately."
What happens next?
Bookmakers have slashed the odds of Boris Johnson leaving office before the end of this year. According to Oddschecker.com, after the decision the odds went from 6/4 to 10/11, implying a shift from a 22.2% to a 52% probability. Bookmakers currently have the outcome of Boris Johnson being the shortest-serving prime minister ever priced at 5/6.
The House of Commons said the parliamentary session will resume on Wednesday but added that there will be no PMQs as at least "two days notice of questions is required."
Want more news?