Spain will exhume dictator Francisco Franco's remains on Thursday
Comments
By Euronews with Reuters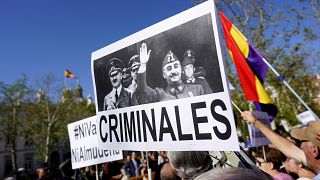 -
Spain will on Thursday remove dictator Francisco Franco's remains from the state mausoleum in which he was buried in 1975, the government said on Monday.
The move concludes decades of controversy over the burial place of the man who still divides opinion in Spain, 80 years after the end of the 1936-1939 civil war he unleashed and nearly 44 years after his death.
The location of Franco's tomb continues to fracture Spanish society with 43% in favour of the move and 32.5% against, according to a poll published by El Mundo last week.
The late dictator's family will attend the removal of his remains from the monument's central basilica at 10:30 CEST on Thursday, the government said in a statement.
He will be buried alongside his wife in the Mingorrubio El Pardo cemetery north of Madrid.
The ruling Socialists have long sought to exhume Franco's remains and turn the Valley of the Fallen complex near the capital into a memorial to the 500,000 people who were killed during the civil war.
The family disputed the exhumation in courts but the Supreme Court rejected their appeal last month.
The government had said it would go ahead with its plan by the end this week, and on Monday gave the day and time of the exhumation.
Neither media nor the general public will be allowed to watch the proceedings, in preparation of which the government shut the Valley of the Fallen.
Spain is facing its fourth election in four years in November and moving Franco's remains from the state mausoleum had long been a Socialist pledge.
Legal battle
Spain's supreme court gave the government the go-ahead last month to exhume the remains of Franco and move them from the state mausoleum in which he was buried in 1975.
"This is a great victory for Spanish democracy," acting Prime Minister Pedro Sanchez said. "The determination to repair the suffering of the victims of Franco always guided the action of the government."
The decision, however, is unlikely to end a divisive debate about Franco's final resting place.
Franco's family has accused the government of trying to change history and said that if the remains must be removed, they should be reinterred with more pomp at the Almudena Roman Catholic Cathedral adjacent to the Royal Palace in central Madrid, alongside his daughter.
The remains should be given to the family, but not moved to Almudena, said Bonifacio Sanchez of the ARMH group that represents victims of Franco's dictatorship.
If they were, it risked the cathedral becoming "a place of cult, glorification of Franco and pilgrimage," he said, adding also that the group objected to any public spending on Franco's grave.
A government report said last December that the Almudena cathedral, located right in the centre of Madrid not far from the royal palace, was unsuitable as a burial place for security reasons.
.
Want more news?