Millions of young people march for climate in historic mobilisation
Comments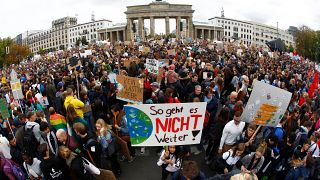 -
Copyright

REUTERS/Fabrizio Bensch
Watch protests across Europe and the rest of the world in the player above
As world leaders prepare to meet in New York for a UN Climate Summit next week, millions of young people in 150 countries skipped school on Friday and took to the streets to demand faster action against climate change.
It was one of the largest mobilisations of its kind since 16-year-old Swedish activist Greta Thunberg launched the movement "Fridays for Future" last year.
The global climate strike kicked off in the Pacific islands and followed the rising sun through Australia, Japan, Southeast Asia and into Europe, Africa and the Middle East.
Social media posts showed scores of demonstrations, ranging from a few dozen primary school children Nigeria, to tens of thousands of people in cities from Hamburg, in Germany, to Melbourne, Australia.
"This is about my future, not only my future, but the future of my entire generation and all the generations to come after ours," said Tristan Vancleef, 16, among around 15,000 demonstrators who marched through the centre of Brussels.
"Our future on your shoulders," read one banner in the German capital as crowds gathered at the Brandenburg Gate.
"A lot of people support our movement but we want to go a step further because politicians decide on our future," said Janik Oswald, a German spokesman for Fridays For Future, the school strike movement started by Thunberg in Sweden last year.
"We urgently demand that something happens."
The group said 1.4 million people took to the streets of Germany this Friday.
In Hamburg alone, Thunberg said over 50,000 young people took part in the march.
"We are skipping our lessons to teach you one," read a placard carried by a student in London, where an estimated 100,000 protesters took to the streets.
In Australia, placards read: "We'll go to school when the earth is cool" and "No beer on a dead planet".
Thunberg has galvanised young people around the world since she started protesting alone with a sign outside the Swedish parliament building in August 2018. Over the past year, young people in other communities have staged scattered strikes in solidarity with her Fridays for Future movement.
UN Climate Summit
Organisers on Friday are holding coordinated strikes around the world for a third time, with Thunberg spearheading a march and rally in New York, where the United Nations headquarters are located.
In a show of solidarity, New York City education officials will excuse students who want to participate in the march.
Next week's summit will bring together world leaders to discuss climate change mitigation strategies, such as transitioning to renewable energy sources from fossil fuels.
Global warming caused by heat-trapping greenhouse gases from burning fossil fuels has already led to droughts and heatwaves, melting glaciers, rising sea levels, and floods, scientists say.
Carbon emissions climbed a record high last year, despite a warning from the U.N.-backed Intergovernmental Panel on Climate Change in October that output of the gases must be slashed over the next 12 years to stabilise the climate.
Euronews will offer non-stop coverage in the next few days from Friday's climate strike until the end of the UN summit on Monday and next Friday's climate strike.
Follow all our coverage on Twitter and our page dedicated to the climate crisis.
Want more news?