Annual complaints to intel watchdog hotline have more than doubled since Trump took office
Comments
By Ken Dilanian with NBC News Politics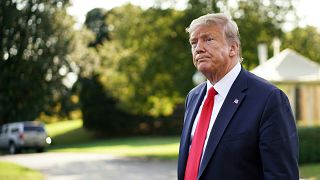 Copyright

Mandel Ngan AFP - Getty Images

-
WASHINGTON — The number of complaints made to a confidential hotline designed to allow the reporting of waste, fraud and abuse in the intelligence community has skyrocketed since Donald Trump took office, government records show.
According to the latest public reportby the Inspector General of the Intelligence Community, the hotline received 563 contacts last year, up from 251 in 2016 and 369 in 2017.
The numbers for the latest fiscal year are on pace to be even higher: There were 297 complaints in just the first six months, according to the report.
The report doesn't describe the complaints or tally how many of those rose to the level of an "urgent concern"—a category of serious complaints that must be turned over to Congress. Officials involved in the process say that designation is rare.
Intelligence agencies whose employees might use the hotline include the CIA, the National Security Agency, and the Defense Intelligence Agency, among others.
The inspector general of the intelligence community, Michael Atkinson,is currently embroiled in the dispute between the Trump administration and Congress over a whistleblower complaint filed by an intelligence community employee — one that Atkinson deemed an "urgent concern."
Atkinson determined that the complaint, which NBC News confirmed involved a presidential phone call, was "credible and urgent," according to documents made public in recent days. He was prepared to send it to the Congressional intelligence committees. But the director of national intelligence overruled him after consulting with the Justice Department.
The Office of the Inspector General of the Intelligence Community did not immediately respond to a request for comment.