EU chief David Sassoli says 'no initiatives' have been shown that would reopen Brexit negotiations
Comments
By Euronews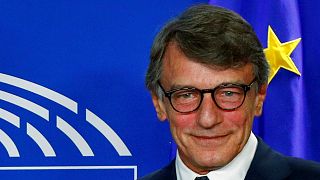 No initiatives have been presented that could reopen Brexit negotiations, the European Parliament President David Sassoli has said.
Speaking after a meeting with the EU's chief Brexit negotiator Michel Barnier on Thursday, Sassoli said the bloc "would like initiatives to discuss, but there are none".
He added the UK had also not proposed "any alternatives" to the backstop issue, stressing that "you can't have an agreement without a backstop".
It comes despite assurances from London that progress has been made in talks, having offered up ideas on customs agreements and goods.
"We believe there is too much rigidity," Sassoli continued, adding: "and this rigidity is something that is being ratified into October 31."
Sassoli made the comments on Thursday amid an ongoing dispute within the UK over Prime Minister Boris Johnson's decision to prorogue — or suspend — parliament in the crucial weeks leading up to the Brexit deadline of October 31.
Critics accuse Johnson of using the suspension — which has been ruled unlawful by a Scottish court — as a means to prevent MPs from forcing him to stop a no-deal Brexit.
However, Johnson maintains he is just following normal procedure.
But Europe, via Sassoli, made itself clear on Thursday: "If there is a no-deal departure, that will be entirely the responsibility of the UK."
He added that the bloc would be willing to consider a further extension to the withdrawal, but for "overriding reasons" only, which could include avoiding a no-deal scenario, or if the UK were to hold a general election.
"An orderly departure of the UK is the goal and what we're searching for," he said, suggesting the earlier deal negotiated by former prime minister Theresa May be resurrected.
He said: "The agreement negotiated is the best possible agreement as far as we're concerned...they protect the rights and life choices of British and European citizens."
The EU would also be open to any solutions the UK could propose on top of this, he added, which "will be debated. All of them. Provided they respect the principles of the [EU]".
Exclusive: Juncker brands Britons 'part-time Europeans' who were never fully in the union