Department of Justice declines to prosecute Comey over leaked memos
Comments
By Allan Smith with NBC News Politics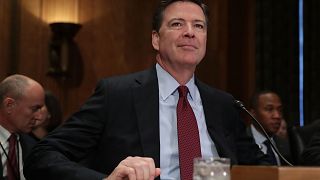 Copyright

Alex Wong Getty Images file

-
The Department of Justice will not prosecute former FBI director James Comey after an internal probe of Comey's handling of memos he kept of his interactions with President Donald Trump.
In a report released Thursday, the Office of the Inspector General said its probe found that Comey violated department policy.
"Upon completing its investigation, the OIG provided its factual findings to the Justice Department for a prosecutorial decision regarding Comey's conduct, as required by the Inspector General Act. After reviewing the matter, the DOJ declined prosecution," the office said in a statement.
The report detailed how the inspector general "found no evidence that Comey or his attorneys released any of the classified information contained in any of the Memos to members of the media," though Inspector General Michael Horowitz said Comey's "retention, handling, and dissemination of certain Memos violated Department and FBI policies, and his FBI Employment Agreement."
Comey responded to the report on Thursday, tweeting: "I don't need a public apology from those who defamed me, but a quick message with a "sorry we lied about you" would be nice."