Rep. Ilhan Omar at center of Washington political consultant's divorce
Comments
By Dartunorro Clark and Lauren Egan with NBC News Politics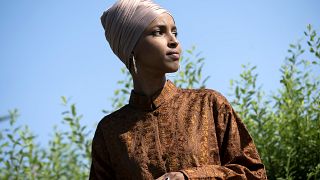 -
Copyright

J. Scott Applewhite AP file
The wife of a Washington political consultant filed for divorce on Tuesday and alleged that her husband told her he was having an affair with Democratic Rep. Ilhan Omar, according to court documents obtained by NBC News.
Beth Mynett, who works as the medical director of the D.C. Department of Corrections, alleged in court documents that her husband, Tim Mynett, confessed his "devastating and shocking declaration of love" for Omar this past April, which led to the split. Tim Mynett's company, the political consulting firm E Street Group, has worked with Omar's campaign.
Omar's office, when asked for comment, referred NBC News to the E Street Group, which said in part, "E Street Group does not comment on the personal life of either our staff or clients."
Beth Mynett, 55, said in the divorce filing that she was "devastated by the betrayal and deceit that preceded his abrupt declaration," but she told her husband that she "loved him and was willing to fight for the marriage." However, she said he told her that "was not an option for him," according to court documents.
The couple has been together since 2006, married in 2012 and have a 13-year-old son together, according to the divorce filing. The New York Post first reported the story.
Omar, who is married, represents Minnesota and was elected last year. She has been in the national spotlight after becoming one of the first Muslims to serve in Congress.
She has also been the subject of racist attacks and death threats as one of the four Democratic congresswomen of color known as "The Squad." The Somali-born congresswoman has drawn the ire of President Donald Trump, who launched an attack on the group last month by telling them to "go back" to the countries they "originally came from." She is an outspoken critic of Israel and was recently denied entry to the country for her affiliation with a boycott movement against Israel.
Federal campaign finance records show that Omar's campaign paid Tim Mynett, 38, $7,000 in July 2018 and E Street Group roughly $222,000 from 2018 to 2019 for fundraising consulting, travel consulting, and internet advertising, among other services.
Tim Mynett's LinkedIn profile shows that he has worked at E Street Group for more than a year and that he provides "national progressive strategies for candidates, nonprofits and advocacy efforts."
She is also is seeking child support, ownership of their Washington home and the division of their assets because she is "closer to the end of her professional career" and would be "left to face a financially insecure future as a result of (his) unilateral decision."