Kellyanne Conway sings Taylor Swift's own song in rebuke of Equality Act advocacy
Comments
By Dartunorro Clark with NBC News Politics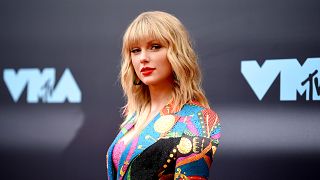 Copyright

Jamie McCarthy Getty Images for MTV

-
White House adviser Kellyanne Conway invoked Taylor Swift's own song in response to the pop phenom urging supporters to sign a petition calling for the passage of legislation to bar discrimination based sex, sexual orientation and gender identity.
Conway appeared on Fox News on Tuesday and criticized Swift after the singer pushed the petition after winning Video of the Year for her hit "You Need to Calm Down" at Monday's MTV Video Music Awards ceremony.
"I actually like the new Taylor Swift song that is called, 'You Need to Calm Down,' Conway said before singing a lyric from the song. "I can sing it for you: 'If you say it on the street that's a knockout/If you put it in a tweet, that's a cop-out.' I love that. That basically is Washington in a nutshell."
"I think that when Hollywood and singers all go political, it sounds in the moment like it is very popular," Conway added. "And we have seen so many times where it backfires and it blows up."
When Swift, who became politically engaged during the 2018 elections, took the award stage Monday night, she thanked supporters of the petition, which is featured in the video for the LGBTQ anthem "You Need to Calm Down" and has more than 500,000 signatures as of Wednesday afternoon. Petitions need 100,000 signatures within 30 days to warrant a response from the White House.
"You voting for this video means that you want a world where we are all treated equally under the law regardless of who we love — regardless of how we identify," Swift said. "At the end of this video, there was a petition, and there still is a petition, for the Equality Act, which basically just says we all deserve equal rights under the law. I want to thank everyone who signed that petition because it now has a half a million signatures, which is five times the amount that it would need to warrant a response from the White House."
The Equality Act, passed mostly along party lines by the Democratic-controlled House in May,would prohibit discrimination based on sex, sexual orientation and gender identity in areas such as employment, public accommodations, housing and education. Eight Republicans voted in favor of the bill. The Republican-led Senate has not brought the legislation to the floor for a vote.
On Tuesday, Conway signaled that the White House has no plans to heed Swift's call.
"She is also somebody who went up against President Trump head-to-head in the Senate race in Tennessee and lost, handily," Conway said, referring to Swift's endorsement of Democrat Phil Bredesen, who lost to Republican Marsha Blackburn in the race last year.
"The president and the White House support equality, we don't support pieces of legislation that have poison pills in it that could harm people," Conway said. She did not explain what aspects of the legislation were objectionable.
When asked about Swift's remarks, White House deputy press secretary Judd Deere told CNN on Tuesday that the administration "absolutely opposes discrimination of any kind and supports the equal treatment of all; however, the House-passed bill in its current form is filled with poison pills that threaten to undermine parental and conscience rights."