House panel announces probe into Trump's plan to host G-7 summit at his Doral resort
Comments
By Lauren Egan and Alex Moe with NBC News Politics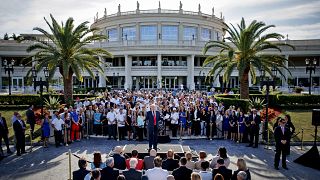 Copyright

Evan Vucci AP file

-
WASHINGTON — The House Judiciary Committee announced on Wednesday plans to investigate President Donald Trump's proposal to hold the 2020 G-7 meeting at his Trump National Doral Miami Golf Resort.
"The President's personal financial interests are clearly shaping decisions about official U.S. government activities, and this is precisely the type of risk that the Constitution's Emoluments Clauses were intended to prevent," House Judiciary Chairman Rep. Jerrold Nadler, D-N.Y., and Civil Rights and Civil Liberties Chair Rep. Steve Cohen, D-Tenn., said in a statement Wednesday afternoon.
"Hosting the G7 Summit at Doral implicates both the Foreign and Domestic Emoluments Clauses, because it would entail both foreign and U.S. government spending to benefit the President, the latter potentially including both federal and state expenditures," they added.
The House hearing on the G-7 summit location, scheduled for sometime in September, will be part of a larger probe into allegations of obstruction of justice, public corruption, and other abuses of power by Trump as part of Congress' impeachment investigation.
"Potential violations of the Foreign and Domestic Emoluments Clauses of the Constitution are of significant interest and grave concern to the Committee as it considers whether to recommend articles of impeachment," Nadler and Cohen said in their statement.
At a press conference at the 2019 G-7 in France earlier this week, Trump said he was considering hosting next year's summit at his Miami property.
"We haven't found anything that could even come close to competing with it, especially when you look at the location right next to the airport," he said.
The president has come under scrutiny throughout his presidency for how often he visits Trump-branded properties, which in turn leads to tax dollars being spent at his businesses. Since taking office, the president has spent nearly 300 days at Trump properties, according to an NBC News count.