Georgia GOP Sen. Johnny Isakson to resign, citing health problems
Comments
By Adam Edelman with NBC News Politics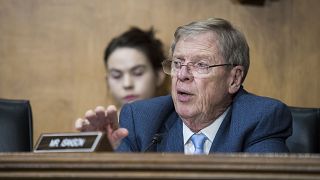 Copyright

Sarah Silbiger Bloomberg

-
Sen. Johnny Isakson, a Georgia Republican, will resign from the Senate at the end of the year due to health problems, creating a new vacancy that may have the potential to swing the balance of the chamber in 2020.
Isakson, 74, was elected to his third term in the Senate in 2016 and would not have been up for re-election until 2022.
In a statement, Isakson said he was leaving because his Parkinson's disease — a diagnosis that he shared publicly in 2015 — "has been progressing." He also shared that he had surgery this week to have "growth" on his kidney removed.
"I have concluded that I will not be able to do the job over the long term in the manner the citizens of Georgia deserve," Isakson said in a statement. "I am leaving a job I love because my health challenges are taking their toll on me, my family and my staff."
Isakson is the chairman of the Veterans Affairs Committee. He won re-election in 2016 55 percent to 41 percent, but Democrats have increasingly targeted Georgia in recent years in an effort to turn the state blue.