'War with nature must end': Teen climate activist sails into NY with message to world
Comments
By Linda Givetash and Associated Press with NBC News World News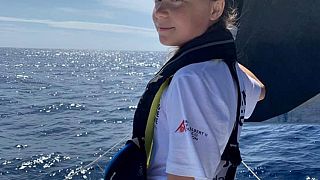 -
Teen climate activist Greta Thunberg was set to dock in New York on Wednesday after crossing the Atlantic on a 60-foot racing yacht in order to avoid the emissions associated with flying.
"Land!! The lights of Long Island and New York City ahead," tweeted Thunberg, who launched the now global Fridays for Future school strikes against climate change.
She is due to attend an upcoming United Nations summit on climate change, and meet with U.N. Secretary-General António Guterres during a youth summit on Sept. 21.
"It's not very luxurious, it's not very fancy, but I don't need that," Thunberg told reporters before setting sail on the Malizia II.
The 16-year-old from Sweden has gained attention worldwide with her message that humanity must immediately reduce greenhouse gas emissions contributing to global warming in order to avert ecological and civilizational collapse.
What began as a quiet protest in front of the Swedish parliament a year ago exploded into a global movement with more than two million teens around the world hosting weekly classroom walkouts.
"We know that our future is at risk," Thunberg told reporters in Switzerland earlier this month at a gathering with her peers. "We would love to go back to school and continue with our everyday lives, but as crucial as this situation is, as serious as this situation is, we feel like we must do something about this now."
"Strong winds are pushing us west. We expect to arrive at North Cove Marina in Manhattan, New York, sometime Tuesday afternoon or evening," Thunberg wrote on Twitter.
Thunberg made her zero-carbon journey aboard the yacht, equipped with solar panels and hydro generators, amid devastating fires in the Amazon rainforest. "Our war against nature must end," the teen said on Twitterin response to the blaze.
The United Nations climate summit on Sept. 23 is intended to accelerate the implementation of the 2015 Paris Agreement — which Trump announced in 2017 that the U.S. will pull out of.
In December, countries meeting in Poland agreed on a set of rules to ensure that the target set in the accord of keeping global warming below 3.6 degrees Fahrenheit is met. At the talks, many countries called for a more ambitious temperature goal of 2.7 F which scientists said in a report last year is safer. But those calls faced fierce opposition from countries, including the United States, delaying any change.
Thunberg will also be participating in the COP25 climate conference in Santiago, Chile, in December.