House Judiciary Committee subpoenas former White House aide Rob Porter
Comments
By Mike Memoli and Alex Moe and Carol E. Lee with NBC News Politics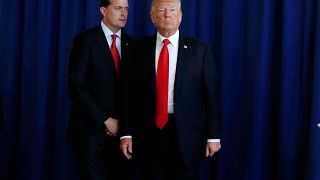 Copyright

Jonathan Ernst Reuters file

-
WASHINGTON — The House Judiciary Committee issued a subpoena Monday to Rob Porter, a former White House aide whose close proximity to President Donald Trump is potentially of significant value to Democratic lawmakers amid growing calls for a formal impeachment inquiry.
Porter, who served as White House staff secretary for just over a year, is one of the administration officials cited most often in former special counsel Robert Mueller's report in the Russia investigation. He spent about 20 hours being interviewed by Mueller's team, and the final report documents his role in episodes detailed as part of the obstruction of justice investigation.
The Mueller report, citing interviews with Porter, documents how the president directed Porter to order former White House counsel Don McGahn to write a letter disputing a New York Times story that he had ordered McGahn to terminate Mueller.
McGahn "shrugged off" the request, Porter recalled to the special counsel's team, saying the Times report was true.
"As I've said before, any other American would have been prosecuted based on the evidence Special Counsel Mueller uncovered in his report," House Judiciary Committee Chairman Jerrold Nadler said in a statement announcing the move. "Rob Porter was prominently featured in the Special Counsel's description of President Trump's efforts to obstruct justice by directing then-White House Counsel Don McGahn to fire the Special Counsel, and then ordering him to lie about it."
Mueller's report also cites notes taken by Porter of an October 2017 meeting between Trump and then-Attorney General Jeff Sessions at which the president urged his top law enforcement official to reverse his recusal from involvement in the investigation of Russian interference in the 2016 presidential campaign.
The Porter subpoena is the eighth issued by the Democratic-led panel as part of its sprawling investigation of potential misconduct by the president. The committee is seeking documents and testimony from officials involved in the Mueller probe and the Porter subpoena was one of a dozen it voted to authorize last month.
Earlier this month the Judiciary Committee served subpoenas to Corey Lewandowski, the president's former campaign manager, and Rick Dearborn, a former deputy White House chief of staff.
The subpoena seeks testimony from Porter before the committee Sept. 17, the same date it also summoned Lewandowski and Dearborn.
Longtime Trump loyalist Hope Hicks testified before the panel in May after being subpoenaed, though she refused on orders from the White House to answer questions related to her tenure as a senior White House official. The committee had reached an agreement to receive written testimony from Annie Donaldson, McGahn's former chief of staff, after a May 21 subpoena.
The committee filed suit in late July in an effort to force McGahn to comply with a subpoena issued to him after the White House asserted executive privilege to block any cooperation.
Nadler has increasingly been describing his committee's work as part of an impeachment investigation, though lawmakers have not formally voted to open one. Last week, he asked the chairmen of four other key committees to provide documents relevant to its work. House Speaker Nancy Pelosi, though, has continued to hold off the growing impeachment push in her caucus, telling members in a conference call last week that "the public isn't there."
Porter resigned his White House post in February 2018 after a British newspaper reported allegations from two ex-wives of physical and verbal abuse.