Spectacular judo as Daria Bilodid crowned 2019 World Champion in Tokyo
Comments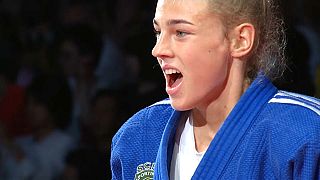 The 2019 World Judo Championships kicked off in Tokyo. And on Day 1, the All Japan Judo Federation received the Guinness World Record for the longest line of posters.
On the tatami, 18 year old Daria Bilodid of Ukraine became our Woman of the Day as the youngest world judo champion of all time, successfully defended her world title.
From the beginning it was clear that she would be hard to beat. The final would be a repeat of the 2018 World Championship, where Bilodid was up against World Number One and home town favorite, Funa Tonaki of Japan.
In an iconic venue against the local hero and World Number One, the average judoka would crumble under pressure, but Bilodid is not average.
In what was a close fought contest, Bilodid took the lead throwing her Japanese opponent with harai makikomi for a waza-ari. The score was enough to secure the win and earn her second World Title.
Her Imperial Highness Princess Tomohito of Mikasa presented Daria Bilodid with her medal.
"I can say that this year it was more difficult than last year in the final because the first reason is the championship was in Tokyo, Japan, so I felt big pressure because of the fans for Japan. And secondly of course because Tonaki prepared all this year and she is really strong. This time it was very difficult but I'm happy that I did it," said Daria Bilodid in an interview.
The -60kg title and Man of the Day went to Lukhumi Chkhvimiani of Georgia. He was up against Uzbekistan's Sharafuddin Lutfillaev in the gold medal contest, where he would look to add the World title to his recent European title.
Chkhvimiani took the lead with an uchi mata sukashi and then shortly followed it up with a powerful uki goshi for the ippon and his first World title.
The Chairman of Tokyo 2020 Olympics Coordination Commission Mr John Coates was on hand to present the -60kg category medals.
"This is a very special moment in my whole career, in my life. This was the dream of my life to get the medal in Japan, Tokyo. This is the motherland for Judo, homeland of Judo Nippon Budakan. So when I was preparing for these championships, I was thinking any kind of medal would be perfect for me, but imagine I am world Champion, my dream comes true now," said Lukhumi Chkhvimiani in an interview.
Kazakhstan's Yeldos Smetov overcame his fellow compatriot Gusman Kyrgyzbayev for bronze in the -60kg category.
While the second bronze was won by Ryuju Nagayama of Japan. A late equalising score and hold, gave him the win over former World Champion and compatriot Naohisa Takato.
Bronze in the -48kg category went to Urantsetseg Munkhbat of Mongolia via a juji atame.
Move of the Day
And our Move of the Day came in the second -48kg category bronze medal match when Kosovo's Distria Krasniqi executed a sublime uchi mata against Laura Martinez-Abelenda of Spain, gaining her first World medal.
So at the end of Day 1 in Tokyo, Europe rules in Asia as Ukraine topped the medals standings ahead of Georgia and Japan in second and third place respectively, but there's plenty more action for judo fans in the days ahead as the 2019 Senior World Judo Championships continue.
Want more news?