Mallorca crash: Seven dead in collision between helicopter and small plane
Comments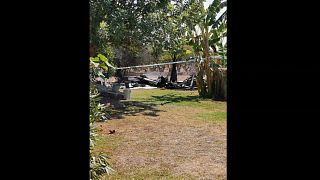 Seven people were killed on Sunday when a helicopter collided with a small plane in Mallorca.
The two aircraft came down close to the town of Inca. Two of the seven victims were minors. There have been no reports of injury on the ground.
Francina Armengol, president of the Balearic Islands, said in a tweet she was "concerned and shocked" by the incident. "Our thoughts are with the victims," she added.
The Guardia Civil said it would open an investigation into the incident.
"My solidarity and love for the families of the victims that lost their lives in this tragic accident," Spanish acting Prime Minister Pedro Sanchez tweeted.
Want more news?