Hong Kong accountants walk off the job, joining protests in Asian financial hub
Comments
By Paul Goldman and Linda Givetash and Reuters and Associated Press with NBC News World News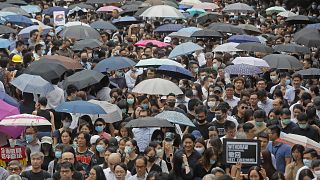 -
HONG KONG — One of the world's leading financial centers was without some of its essential staff on Friday as hundreds of accountants marched out of their offices in Hong Kong in protest of the government.
Gathering in a park across from the Bank of China tower, the accountants are the latest to join a relentless protest movement that began in June and has hit the territory's economy.
"I'm telling the government that professionals are very concerned with how this government is running, especially after the saga of the extradition bill," Kenneth Leung, who organized the protest, told NBC News.
The controversial extradition bill proposed by the semi-autonomous territory's governmentearlier this year would have allowed for suspects to be sent to mainland China, sparking mass demonstrations among those fearful it would erode residents' rights by giving more power to Beijing.
"We also want to tell the world that there is no white terror here," said Leung, using a term that describes the climate of fear created to dissuade protests and political dissent. "Employees should not get reprimanded for participating in a peaceful rally like this."
Not all were as fearless as Leung.
"To be honest, I'm a little bit in fear that I will be sacked," a 28-year-old accountant donning a black mask told NBC News. He asked to remain anonymous.
This is not an idle fear. On Aug. 16, the CEO of Cathay Pacific Airways, one of the former British colony's most prominent companies, resigned after pressure by Beijing on the carrier over participation by some employees in protests.
Beijing had earlier sent ripples of concern through the financial hub when it warned Cathay Pacific employees who "support or take part in illegal protests" that they would be barred from flying to or over the mainland. Cathay Pacific has said a pilot who was charged with rioting was removed from flying duties.
While he was afraid, the 28-year-old masked accountant said it was important to be on the street.
"This is the problem for the next generation of Hong Kong people," he said. "We don't want to let our freedoms go away."
While the accountants' march was peaceful, other demonstrations have become increasingly violent. Clashes between protesters and police have broken out on the streets and at the city's busy international airport, resulting in the cancellation of hundreds of flights.
The conflict has added to the protesters' demands, which have expanded from simply the complete withdrawal of the extradition bill, to include the resignation of Hong Kong's chief executive Carrie Lam and an investigation into police brutality.
Hong Kong became a special administrative region of China in 1997. As many as 2 million of the territory's 7 million residents have taken to the streets demanding democracy and protecting their freedoms, which unlike those living in mainland China, include the ability freely surf the internet and participate in public protests.
News
The chaos has had economic ramifications. Hong Kong's stock market has plunged to a seven-month low, prompting research firm Capital Economics issue a warning last week thatthe territory could fall into recession if protests escalate further.
Hong Kong banks published full-page newspaper ads on Thursday calling for law and order, while international jewelers announced the rescheduling of a huge trade fair in the territory over fears of continued demonstrations.
More protests were expected Friday as thousands were set to hold hands to form human chains in different areas of the city, an action inspired by 1989 demonstrations across Baltic states against Soviet rule that became known as the "Baltic Way" or "Baltic Chain."