Gran Canaria: Wildfire on Spanish island 'subsides' as winds drop
Comments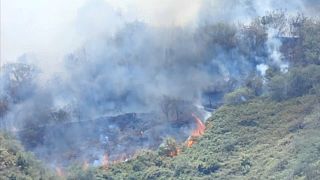 -
A wildfire on the Spanish island of Gran Canaria has started to subside after firefighters battled to contain it since it began on Saturday.
Around 9,000 people were evacuated from the area but may be allowed to return to their homes as long as weather conditions don't deteriorate again, officials said.
Angel Victor Torres, president of the Canary Islands archipelago, tweeted: "Good news on the blaze of Gran Canaria.
"After going to the (affected) areas at night, experts tell me the fire is subsiding... and losing strength," he added.
The blaze, which began near the town of Tejeda, was propelled by a combination of high temperatures, strong winds and low humidity.
Sixteen planes and helicopters, as well as more than 700 firefighters, worked to contain flames as high as 50 metres, authorities said. More than 10,000 hectares have burned so far.
The regional president of Gran Canaria said it was impossible to use airborne means to extinguish the fire in areas where the flames were 50 metres high.
Some 400 firefighters spent the night battling the fire's flanks, with more firefighters arriving on Monday.
The blaze marks the second time that Tejeda has been evacuated this month due to a wildfire.
See video footage of the wildfire from Tuesday morning in the above player.
Want more news?