China warns on U.S. deployment of arms in Asia as trade tensions flare
Comments
By Associated Press and Reuters with NBC News World News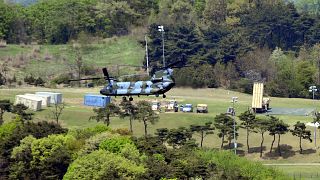 -
BEIJING — China said Tuesday that it "will not stand idly by" and will take countermeasures if the U.S. deploys intermediate-range missiles in the Asia-Pacific region, which Washington has said it plans to do within months.
The statement from the director of the foreign ministry's Arms Control Department, Fu Cong, follows the U.S.'s withdrawal last week from the Intermediate-Range Nuclear Forces Treaty, a move Fu said would have a "direct negative impact on the global strategic stability" as well as security in Europe and the Asia-Pacific region.
Fu's comments also come as the country's central bank said Washington's earlier decision to label Beijing a currency manipulatorwould "severely damage international financial order and cause chaos in financial markets," further worsening tensions between the world's largest economies.
China was particularly concerned about announced plans to develop and test a land-based intermediate-range missile in the Asia-Pacific "sooner rather than later," in the words of one U.S. official, Fu said.
"China will not stand idly by and be forced to take countermeasures should the U.S. deploy intermediate-range ground-based missiles this part of the world," he told reporters at a specially called briefing.
He also advised other nations, particularly South Korea, Japan and Australia, to "exercise prudence" and not allow the U.S. to deploy such weapons on their territory, saying that would "not serve the national security interests of these countries."
U.S. Defense Secretary Mark Esper said in Asia over the weekend that he wanted to deploy midrange conventional missiles in the Asia-Pacific within months. Australian officials said Monday that the locations for the bases were not yet known but their country would not be one of them.
Trade tensions
The arms debate comes amid amid a rapidly escalating China-U.S. trade war.
The Treasury Department's decision to dub Beijing a currency manipulator would "prevent a global economic and trade recovery," the People's Bank of China (PBOC) said in the country's first official response to the latest U.S. salvo.
China "has not used and will not use the exchange rate as a tool to deal with trade disputes," the PBOC said in a statement on its website.
"China advised the United States to rein in its horse before the precipice, and be aware of its errors, and turn back from the wrong path," it said.
The U.S. currency accusation, which followed a sharp slide in the yuan on Monday, has driven an even bigger wedge between China and the U.S., and crushed any lingering hopes for a quick resolution to their year-long trade war.
The dispute has already spread beyond tariffs to other areas such as technology, and analysts caution tit-for-tat measures could widen in scope and severity, weighing further on business confidence and global economic growth.
The Treasury Department said on Monday it had determined for the first time since 1994 that China was manipulating its currency, taking their trade dispute beyond tariffs.
China "no longer expects goodwill from the United States", Hu Xijin, the newspaper's editor-in-chief, tweeted on Tuesday.