Trump condemns 'racism, bigotry and white supremacy' after weekend of mass shootings
Comments
By Shannon Pettypiece and Adam Edelman with NBC News Politics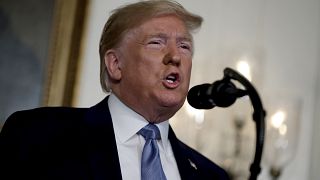 -
WASHINGTON — President Donald Trump on Monday condemned "racism, bigotry and white supremacy" in an address to the nation following a devastating and bloody weekend in the U.S. during which two mass shootings in less than a day left at least 29 people dead.
"In one voice, our nation must condemn racism, bigotry and white supremacy," Trump said in a nationally televised address from the White House, his first remarks to the nation following the horrific mass shootings over the weekend. "These sinister ideologies must be defeated. Hate has no place in America."
"Hatred warps the mind, ravages the heart and devours the soul," Trump said.
Just before the El Paso attack that left 21 dead and even more injured, the alleged suspect — identified by police as Patrick Crusius, 21, from the Dallas area —posted a diatribe against immigrants, a senior law enforcement official told NBC News. He railed against immigrants in Texas and pushed talking points about preserving European identity in America.
The president did not specifically condemn anti-immigrant rhetoric on Monday, instead blaming violent video games and mental illness for the scourge of mass shootings that have been a steady drumbeat throughout his presidency. It is unclear either of those were factors that led to the pair of weekend shootings.
The president voiced support for stronger death penalty legislation for those who commit mass shootings, putting additional resources and new tools toward helping identify early warning signs before shooters act, and reforming mental health laws.
"Mental illness and hatred pulls the trigger, not the gun," he said.
On Saturday, a gunman opened fire into a crowd at an El Paso, Texas, retail area that is popular among both local residents and shoppers from just across the border with Mexico.
Then, early Sunday, a shooter attacked a crowd outside a popular bar in Dayton, Ohio, as patrons were enjoying a night out.
During Trump's address, he misstated the Ohio city where the shooting took place, referring to "the memory of those who perished in Toledo."
Trump avoided calling for any specific gun control laws, in contrast to a tweet this morning where he said Congress should pass background check legislation tied to immigration reform, a move that could give Republicans leverage over Democrats in passing controversial immigration measures.
"We cannot let those killed in El Paso, Texas, and Dayton, Ohio, die in vain. Likewise for those so seriously wounded. We can never forget them, and those many who came before them. Republicans and Democrats must come together and get strong background checks, perhaps marrying this legislation with desperately needed immigration reform," Trump said in a pair of tweets Monday morning.
"We must have something good, if not GREAT, come out of these two tragic events!" he added.
Trump also gave his support in his remarks to so-called "red flag laws," which would allow a family to obtain a court order to take away a relatives firearm if they believe they posed a risk. The measure has been backed by Republicans while Democrats have focused on improving background checks.
It isn't known yet whether background checks or red flag laws could have played a role in preventing the most recent shootings.
While criticizing social media in his White House remarks for stoking hatred, Trump used his Twitter account in a Monday morning to blame the news media for "the anger and rage" that has led to a rash of mass shootings in the United States.
"The Media has a big responsibility to life and safety in our Country. Fake News has contributed greatly to the anger and rage that has built up over many years. News coverage has got to start being fair, balanced and unbiased, or these terrible problems will only get worse!" he wrote.
As a president, and as a presidential candidate, Trump has been an avid supporter of Second Amendment rights.
Following the February 2018 shooting at Marjory Stoneman Douglas High School in Parkland that left 17 students and teachers dead, Trump at first indicated he could supporttightening background checks for gun buyers, but backed away from that suggestion and instead threw support behind a proposal that some teachers in schools be armed and trained in the use of firearms and called for greater institutionalization of mentally ill people believed to be capable of violence. Trump has also moved to ban bump stocks, devices that allows semi-automatic rifles to fire continuously like machine guns.
In February 2019, the Democratic-controlled Housepassed two bills that would have tightened backgroundchecks on gun buyers, but the GOP-controlled Senate never took up either of the bills, and Trump had promised to veto the legislation.
Senate Democrats on Sunday called on Senate Majority Leader Mitch McConnell, R-Ky., to cancel the chamber's August recess so that they can take up gun control legislation in the wake of two mass shootings this weekend and in Gilroy, California, last week — including at least one of the bills the House passed in February.
That bill, dubbed the Bipartisan Background Checks Act of 2019, would create new background check requirements for gun transfers between unlicensed individuals. Under current law, only licensed gun dealers are required to conduct a background check for buyers.
The other bill the Democrats passed in February would extend to 10 days the amount of time federal officials have to complete a background check on a gun buyer before a sale is completed. Under current regulations, if a background check isn't completed within three business days, the sale can be completed anyway.
Responding to Trump's tweets, Senate Minority Leader Chuck Schumer, D-N.Y., said Trump should push for passage of the House-passed background check legislation.
"Instead of flailing around blaming everything under the sun, if the president is serious about 'strong background checks,' there's one thing he can do: Demand Leader McConnell put the bipartisan House-passed universal background checks legislation on the floor of the Senate for a vote," Schumer said.