Frenchman succeeds in bid to cross English Channel on a jet-powered hoverboard
Comments
By Reuters and Saphora Smith with NBC News World News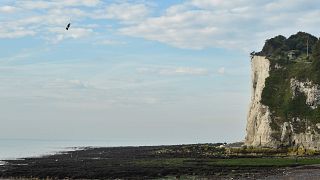 -
SANGATTE, France — French inventor Franky Zapata on Sunday succeeded in crossing the English Channel on a jet-powered hoverboard he designed, having abandoned a previous attempt after failing to landon a refuelling platform and falling into the sea.
The Frenchman was seen waving to onlookers before landing safely in Saint Margaret's Bay, very close to Dover on Britain's southern coast, according to French TV images.
Zapata, who wowed crowds during France's Bastille Day celebrations on July 14 by soaring over a military parade in Paris on the device, rejigged refuelling arrangements this time, with a bigger boat and platform.
Zapata, 40, is dubbed "Flyman" by French media.
He told Le Parisien newspaper last month that Bastille Day was "easy" in comparison to crossing the English Channel.
"I used 3 percent of the capacity of the machine, while for crossing the Channel I'll need 99.9 percent," he said, adding that he believed he had a 30 percent chance of making it across to England.
The hoverboard is powered by five small jet engines and has a 1500 horsepower, according to Reuters. Zapata steers his craft by leaning forward or backward and controls the thrust with a throttle, the news agency added.
At first, French maritime authorities refused to permit the flight saying it was too dangerous to cross because of the number of vessels in the Channel, according to Le Parisien.
The Channel is one of the world's busiest shipping lanes.
The former jet ski champion's first bid to cross the approximately 22 mile stretch of water on a hoverboard was meant to coincide with the 110th anniversary of the first-ever flight across the English Channel in an airplane, achieved by Louis Blériot.