Canadian authorities searching river for teen murder suspects
Comments
By Tim Stelloh with NBC News World News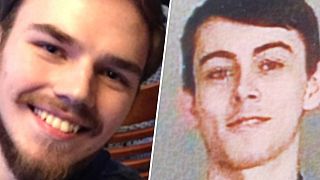 Copyright

Royal Canadian Mounted Police

-
Authorities in Canada were searching "significant areas of interest" in a river Sunday as the manhunt for two teenage murder suspects approaches its third week.
The Royal Canadian Mounted Police said that divers were scouring a section of the Nelson River in Manitoba after officers in a helicopter located a damaged aluminum boat on its shores last week.
The suspects, Kam McLeod, 19, and Bryer Schmegelsky, 18, of Port Alberni, British Columbia, are wanted in three killings — the slayings of an American woman,Chynna Noelle Deese, 24, and her Australian boyfriend Lucas Robertson Fowler, 23, who were found dead on July 15, and the alleged murder of a botanist, Leonard Dyck, who was found dead July 19.
The expanded investigation came nearly a week after authorities completed an "exhaustive" search in the nearby community of York Landing and were unable to substantiate what officials described as a credible sighting.
A local patrol group had spotted two suspicious men on foot near the York Landing landfill, police said.
McLeod and Schmegelsky have been the subject of a wide-ranging manhunt that began last month and has spanned vast stretches of remote terrain across four provinces.
Though the pair were initially treated as missing persons, authorities later said on July 23 that they were wanted in connection to the double homicide of Deese and Fowler, and for the alleged second-degree murder of Dyck.
Dyck, a lecturer in botany at the University of British Columbia, was found dead near a car that belonged to McLeod and Schmegelsky. Authorities discovered the vehicle, which had been set on fire, 30 miles south of Dease Lake, in northern British Columbia.
The bodies of Deese and Fowler were found roughly 300 miles away, along Alaska Highway 97 near Liard Hot Springs.
The couple had been setting off on a road trip to Alaska when they were killed, a relative told NBC News.
The teens were thought to have been traveling to Whitehorse, in the Yukon, to look for work when relatives lost contact with them, police have said.
One of the teen's fathers, Alan Schmegelsky, told The Canadian Press that his son had a difficult childhood and was likely on "a suicide mission."
Authorities have described an intense search for the pair that has included sifting through hundreds of tips, combing through dense forests and abandoned buildings, using military aircraft and canvassing hundreds of homes.