Beto O'Rourke says Trump to blame for El Paso shooting because he 'stokes racism'
Comments
By Dartunorro Clark with NBC News Politics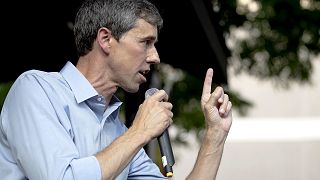 Copyright

Nick Wagner Austin American-Statesman via AP file

-
Democratic hopefuls in the 2020 election sharply criticized President Donald Trump over the weekend, arguing that his reluctance to denounce white nationalism and past racist rhetoric bears some responsibility on the deadly mass shooting in El Paso, Texas.
Beto O'Rourke, a former Texas congressman whose district included El Paso, argued that white nationalists have been encouraged by Trump. He cited the rise in hate crimes over the past three years since Trump's election, the administration's travel ban on people from Muslim countries and his attacks on four Democratic congresswomen of color. The suspect in Saturday's shooting, which occurred in an area frequented by tourists from Mexico, allegedly posted a white nationalist manifesto online prior to the attack.
Trump "is a racist and he stokes racism in this country," O'Rourke told reporters on Saturday after meeting with victims and doctors. "And it does not just offend our sensibilities, it fundamentally changes the character of this country and it leads to violence. Again, there are still details that we are waiting on, but I'm just following the lead that I've heard from the El Paso police department where they say there are strong indications that this shooter wrote that manifesto and this was inspired by his hatred of people here in this community."
O'Rourke doubled down on Sunday, telling ABC News that Trump "doesn't just tolerate, he encourages the kind of open racism."
A gunman opened fire Saturday in a Walmart and around the nearby Cielo Vista Mall, a popular shopping destination for people on both sides of the U.S. southern border, leaving 20 people dead and 26 injured, law enforcement officials told NBC News. Residents of Mexico typically hold passes allowing them to cross the border to shop and conduct business in the U.S.
Law enforcement sources told NBC News that police identified the suspect as Patrick Crusius, 21, from the Dallas area. Sgt. Robert Gomez of the El Paso Police Department said no shots were fired by law enforcement. Officials said Cruisius posted a screed online that railed against immigrants just prior to the attack, terrorism experts told NBC News that nothing should be taken at face value in the propaganda material left behind by hate crime suspects.
South Bend, Indiana Mayor Pete Buttigieg, who called out "white nationalist terrorism"in a tweet shortly after Saturday's mass shooting at an El Paso shopping mall, told Fox News Sunday that white nationalists feel "validated" by the White House.
"Well, there's no question that white nationalism is condoned at the highest level of our government," Buttigieg told Fox News Sunday. "Right now, you see it being echoed by the White House and there is a measure of responsibility that you just can't get away from when you have case after case of racial rhetoric coming out of the White House."
He added, "Of course, this is part of a climate where people who are in the grip of this hateful ideology feel validated and they feel validated from all the way at the top and that is part of our problem."
Former Housing and Urban Development Secretary Julián Castro and Sen. Cory Booker, D-N.J., also came out on Sunday to excoriate Trump. They said the president has helpedstoke racial resentment and anti-immigrant sentiment.
"We have a president of the United States who is particularly responsible," Booker told NBC News' "Meet the Press." "There is a complicity in the president's hatred that undermines the goodness and decency of Americans."
Castro, a Texas native, told "Meet The Press" that the president lost credibility after he did not swiftly condemn the neo-Nazis who clashed with counterprotesters in Charlotteville in 2017 and when he did not stop his supporters from chanting "send her back" at a campaign rally last month aimed at Rep. Ilhan Omar, D-Minn.
"Like all Americans, I still hope that this president will do what most presidents have done throughout our history, which is to realize we have to do everything we can to try and unite Americans instead of fanning the flames of bigotry."
Sen. Elizabeth Warren, also a Democratic 2020 candidate, tweeted on Sunday that "we need to call out the president himself for advancing racism and white supremacy."
Acting White House Secretary Mick Mulvaney, however, said it is not fair to place the blame on the president.
"I blame the people who pulled the trigger," he told NBC's "Meet the Press" on Sunday.
"Was Bernie Sanders responsible for when my friends got shot playing baseball?," he said, referencing the former Sanders volunteer who opened fire on GOP lawmakers in 2017. "I don't think he was. Was Alexandria Ocasio-Cortez responsible when somebody drove up to a DHS facility ... trying to blow the place up, calling it a concentration camp?"
Mulvaney told ABC News' "This Week that,"This is a serious problem, there's no question about it, but they are sick, sick people and the president knows that, so I don't think it's fair to try and lay this at the feet of the president... he's angry, he's upset, he wants it to stop. I don't think it it's at all fair to sit here to say that he doesn't think that white nationalism is bad for the nation."
Following the attack by a white supremacist on two mosques in New Zealand that killed 49 people, Trump said in March that he did not view white nationalism as agrowing global threat.
"I don't really. I think it's a small group of people that have very, very serious problems," he said.
Trump on Saturday offered condolences to the victims in the El Paso shooting in a tweet.
"Terrible shootings in El Paso, Texas. Reports are very bad, many killed. Working with State and Local authorities, and Law Enforcement. Spoke to Governor to pledge total support of Federal Government. God be with you all!" he said.