Trump: Democratic debate ratings suggest people are 'desperate' for me
Comments
By Rebecca Shabad with NBC News Politics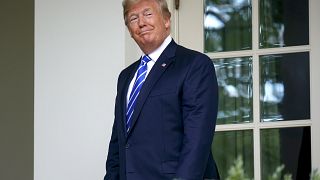 -
WASHINGTON — President Donald Trump lashed out at Democrats on Wednesday evening, less than an hour before the 2020 primary debates, tweeting that the faceoff the night before had received "very low ratings" and suggested that people were "desperate" for Trump.
Trump's tweet came just minutes before the start of the second night of the second presidential debate in Detroit, in which former Vice President Joe Biden and Sen. Kamala Harris, D-Calif., are among the contenders set to face off.
CNN announced Wednesday afternoon that the network's first debate of the campaign cycle on Tuesday evening had attracted 8.7 million viewers, a significant drop from the 15.3 million viewers who watched the first night of the Democratic debate in Miami last month that was hosted by NBC, MSNBC and Telemundo.
Earlier in the day Wednesday, Trump said that Democrats would lead the nation "into an economic sinkhole," specifically taking aim at Biden and Harris.
"If I hadn't won the 2016 Election, we would be in a Great Recession/Depression right now," he tweeted. "The people I saw on stage last night, & you can add in Sleepy Joe, Harris, & the rest, will lead us into an economic sinkhole the likes of which we have never seen before. With me, only up!"
Later in the day, he criticized CNN anchor Don Lemon for a question he asked during the first debate, which that featured several top candidates, including Sens. Bernie Sanders of Vermont and Elizabeth Warren of Massachusetts.
"CNN's Don Lemon, the dumbest man on television, insinuated last night while asking a debate 'question' that I was a racist, when in fact I am 'the least racist person in the world,'" tweeted Trump. "Perhaps someone should explain to Don that he is supposed to be neutral, unbiased & fair, or is he too dumb (stupid) to understand that."
Despite tweeting frequently recently, and saying that he planned to watch the first debate, he remained silent on Twitter throughout Tuesday night's showdown.