Second Democratic debate kicks off in Detroit with Warren and Sanders
Comments
By Alex Seitz-Wald with NBC News Politics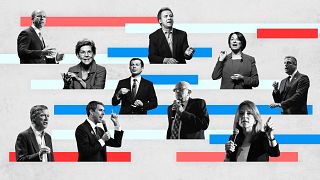 -
Copyright

Elise Wrabetz NBC News
DETROIT — Ten Democratic presidential candidates will debate here Tuesday on the first night of the crowded 2020 presidential contest's second face-off.
At center stage at the CNN-hosted event in the historic Fox Theatre will be Sens. Bernie Sanders, I-Vt., and Elizabeth Warren, D-Mass., who are vying with each other to be the progressive pacesetter. His poll numbers have been sliding while hers have been rising.
Also on stage for the 8 p.m. ET start will be former Texas Rep. Beto O'Rourke, who is struggling to regain the momentum his campaign lost after its early days, and Mayor Pete Buttigieg of South Bend, Indiana, who raised more money than any other candidate in the last three months of the year, but whose momentum has been blunted by doubts he can appeal to black voters.
Download the NBC News app for full coverage of the Democratic debates
The stage will also feature debate newcomer Steve Bullock, the governor of Montana, who missed out on the first face-off in Miami but this time took the spot vacated by Rep. Eric Swalwell, D-Calif., who dropped out of the race earlier this month. Bullock is expected to tout his record winning a red state.
By a fluke of the draw used to determine the lineup, Tuesday night's stage will feature 10 white candidates in a majority-black city, while the five minority candidates in the 2020 Democratic race will go toe to toe on the second night of the debate Wednesday, along with Joe Biden, the front-runner in the polls.
The Detroit debate may be one of the last chances for a number of low-polling candidates to have a breakout moment before the bar to qualify for the next debate in September gets raised significantly, which is expected to winnow the field.
Chief among them may be Sen. Amy Klobuchar, D-Minn, a former prosecutor who has a track record of winning in the upper Midwest, but who has struggled to gain attention in the crowded field.
Other candidates struggling to get notice include Rep. Tim Ryan, D-Ohio, self-help author Marianne Williamson, and moderates John Delaney, a former Maryland congressman, and John Hickenlooper, the ex-governor of Colorado, who have signaled they will try to contrast themselves on Tuesday night with progressives Sanders and Warren on health care and other issues.