Trump revives Cummings insults: Baltimore 'like living in hell'
Comments
By Adam Edelman with NBC News Politics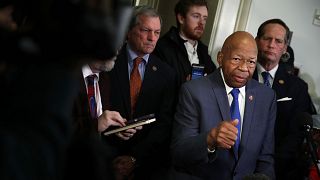 -
Copyright

Alex Wong Getty Images file
President Donald Trump on Tuesday resumed his attacks on Rep. Elijah Cummings, slamming the Maryland Democrat as being "in charge" of Baltimore — the "most unsafe city in the country."
"People living in Baltimore are real happy that I'm bringing up the fact that it's like living in hell," Trump told reporters on the White House lawn.
"The most unsafe city in the country, in our country is Baltimore," Trump said.
While Baltimore has in recent years consistently been among the U.S. cities with the most violent crime, it is not the most unsafe city in the country, as Trump claims. That label belongs to St. Louis, Mo., which, according to the FBI, had 2,082 incidents of violent crime per 100,000 residents in 2017, the latest year for which a full analysis of crime statistics is available. The City of Baltimore had the third-highest number of incidents of violent crime per 100,000 residents in 2017, with 2,027, the FBI statistics show.
"All this money goes there and take a look at it, I don't have to describe it," Trump said. "And Elijah Cummings is in charge of it."
The mayor of Baltimore is Bernard Young.
Trump's comments are just the latest round of his attacks on Cummings, the chairman of the House Oversight Committee whose district includes most of Baltimore County.
The feud first began on Saturday when Trump tweeted that living conditions in Baltimore were "dangerous," "disgusting" and "far worse" than they are along the southern border, where migrants have lined up to seek asylum. He also said that the "Border is clean, efficient and well run, just very crowded" and that Cummings' district is "a disgusting, rat and rodent infested mess."
On Sunday, Trump doubled down, calling Cummings, who is black, a "racist."
The onslaught came after Cummings' committee voted to subpoena personal emails and texts of top White House aides, including Trump's daughter Ivanka Trump and her husband Jared Kushner, who are both prominent White House staffers. Cummings also earned Trump's ire after he said during a press conference about former special counsel Robert Mueller's congressional testimony that he was "begging the American people to pay attention to what is going on" with the president and his associates.