Senators who visited border asked DHS for improved care of migrants
Comments
By Leigh Ann Caldwell with NBC News Politics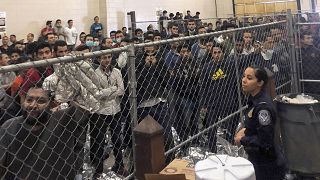 Copyright

Josh Dawsey The Washington Post via AP, Pool file

-
WASHINGTON — After visiting migrant detention centers near the southern border, Senate Democrats are requesting that the Department of Homeland Security make immediate changes to its detention centers, citing "serious concerns" with conditions.
In a letter signed by 13 Democrats who visited Customs and Border Patrol processing centers near the border last week, the senators list 18 actions the agency should take immediately that they say would ensure humane treatment of migrant children and result in better oversight of the facilities.
CBP processing centers have been scrutinized as migrants, including children, have been held in sub par conditions far longer than the 72-hour limit with reports of abuse and mistreatment.
The senators are asking acting Secretary of Homeland Security Kevin McAleenan and acting Commissioner of CBP, Mark Morgan, to respond to their request by Thursday and provide a telephone briefing by Aug. 10 with an update on if the requests are being addressed.
Among the senators' requests: improve the water quality at the McAllen Border Patrol Station; provide schedules to Congress indicating that migrants can make phone calls, eat, take showers and brush their teeth; darken rooms so children can sleep.
The letter notes that the senators want to know if the migrants can report claims of abuse and what type of medical and psychological care the migrants have access to, and if DHW will support additional independent monitoring of facilities.
Sen. Charles Schumer, D-N.Y., is the highest ranking member of Congress to visit the border. He and 12 other Democratic senators visited the Border Patrol processing facility in McAllen, as well as processing centers Donna and Ursula, also in Texas.
"The searing accounts about the conditions endured by migrant families are true. We saw overcrowding. We heard migrants tell us that they were unable to brush their teeth, shower, call their families, or access feminine hygiene products," Schumer said on the Senate floor earlier this week. "We saw children in soiled clothing, caged and expressionless — heartbreaking, thousand-mile stares on the faces of toddlers…where smiles and laughter should have been."
The letter notes that a July inspector general report instructed DHS to "take immediate steps to alleviate dangerous overcrowding and prolonged detention of children and adults."
Aaron Hull, head of the Border Patrol's El Paso Sector, will be reassigned to Detroit on Monday, according to documents obtained by NBC News.