China blames Trump for destabilizing the world
Comments
By Alexander Smith and Dawn Liu and Reuters with NBC News World News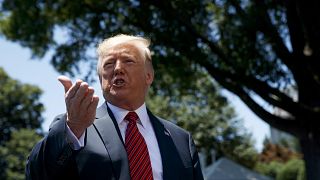 -
China has accused the United States of undermining global stability and warned it would consider using force to gain control of Taiwan.
The comments came in China's first defense white paper since 2015, giving an insight into the policy priorities for the world's most populous country and second-largest economy.
It is also an indicator of the messages the administration headed by President Xi Jinping wants to broadcast for both domestic and international audiences.
The paper said the administration of President Donald Trump "has provoked and intensified competition among major countries ... and undermined global strategic stability."
China "resolutely opposes the wrong practices and provocative activities of the U.S." when it comes to Taiwan, the disputed South China Sea, and Washington's sanctions against China last year after it bought arms from Russia's blacklisted state arms export agency.
Beijing and Washington are engaged in a trade war, with Trump and Xi hiking tariffs on hundreds of billions of dollars of each other's goods.
They have also clashed over the South China Sea, where the U.S. and others accuse China of building artificial militarized islands on reefs in disputed waters, through which about $5 trillion in shipping trade passes each year.
Another point of contention is Taiwan, an island off the Chinese mainland that has governed itself since 1949, but that Beijing sees as a rogue breakaway province. The U.S. has no formal ties with Taiwan but is bound by law to help it defend itself.
It featured prominently in Wednesday's white paper, titled "China's National Defense in the New Era."
"We make no promise to renounce the use of force, and reserve the option of taking all necessary measures," it said, adding that its military "will resolutely defeat anyone attempting to separate Taiwan from China and safeguard national unity at all costs."
The message was not targeted at the Taiwanese population as a whole, it added, but rather "at the interference of external forces" — though it did not name names — "and the very small number of 'Taiwan independence' separatists."
Elsewhere the wide-ranging document sought to cast China as a more peaceful, rational player in a world characterized by military build-ups.
China has around 280 nuclear weapons, according to arms watchdogs, but it said it remains committed to only using them in self-defense, rather than adopting a strike-first policy.
Its defense spending is "at a relatively low level" compared with the U.S., which it said has "significantly increased its defense expenditure, pushed for additional capacity in nuclear, outer space, cyber and missile defense."
It was also keen to point out Washington's military alliances in the region.
Japan "is becoming more outward-looking in its military endeavors" and Australia "continues to strengthen its military alliance with the U.S. and its military engagement in the Asia-Pacific, seeking a bigger role in security affairs," it said.