Britain braces for hottest day ever as heat wave stifles Europe
Comments
By Linda Givetash and Associated Press with NBC News World News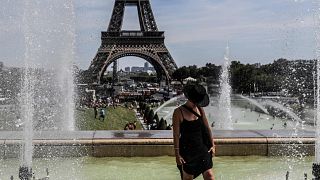 -
Britain is bracing for its hottest day in recorded history as a heat ave raises concerns for health and wildfire risks across western Europe.
The U.K.'s Met Office issued a warning that Thursday could see the 101.3-degree record set in August 2003 shattered with forecasts of a high of 102.2 degrees.
An influx of hot air from North Africa is triggering the sky-high temperatures, similar to last month's record heatwave that hit much of central and western Europe, according to the World Meteorological Organization.
The extreme conditions, particularly heatwaves, are direct symptoms of climate change, said Clare Nullis, media officer for the WMO.
"We expect when 2019 comes to an end, we will see the warmest 5-year-period on record. Climate change is very much real, it is not a future distant scenario, it is happening now, and it is playing out through extreme weather events," she told NBC News.
France, Germany, Belgium and the Netherlands are also experiencing above-normal temperatures this week. Nullis said meteorologists in Belgium told her they were having to draw weather maps to include highs of 104 degrees for the first time ever.
While the current blast of hot air is supposed to be short-lived, with temperatures returning to normal by the weekend, it's adding to the toll felt by regions that have already seen extreme heat this season.
"The remarkable thing about the summer so far in Europe is that we are seeing this one-two double whammy," she said.
Last month, France saw its hottest day on record, surpassing 114 degrees in the southern towns of Vérargues and Gallargues-le-Montueux on June 28.
Although temperatures have cooled in the weeks in between, the country hasn't received any rain, Nullis said. The combination of heat and drought is not only drying soil but has reduced water levels in many rivers.
Nuclear power plants have had to reduce their output from at least two reactors as a result, the French energy company EDF said. The plants use water from the rivers to cool down the temperatures in their reactors, which is then ejected back into the waterway. Unusually warm water can result in mass deaths of fish, and EDF tweeted that it is restricting operations at some plants to adhere to environmental regulations.
The company said that no effect on the electricity supply is expected.
The extreme conditions also carry longer-term implications for failing agriculture and wildfire risks. The European Commission's Copernicus Atmosphere Monitoring Service says there are at least 10 active fires across Europe and the Middle East as of Wednesday.
For Greece, the deadly implications of wildfires are well known. On Tuesday, residents of the small coastal community of Mati held a candlelit memorial for 102 people who died in a blaze near Athens last year, which also saw more than a thousand homes destroyed.
A new fire is underway not too far from the port of Rafina, just over two miles from the town charred in 2018.
Beyond Europe, fires are also raging in an unlikely territory: north of the Arctic circle.
Copernicus has tracked fires in Siberia that have been raging since mid-June. In June, the average temperature in parts of the region were almost 10 degrees Celsius higher than the average between 1981 and 2010, Nullis said.
The effects of the fires have broader implications. The Copernicus Atmosphere Monitoring Service reported that the Arctic fires in June alone emitted more carbon dioxide than Sweden's total annual emissions.
"We have to face up to this, we have to get used to it," Nullis said.